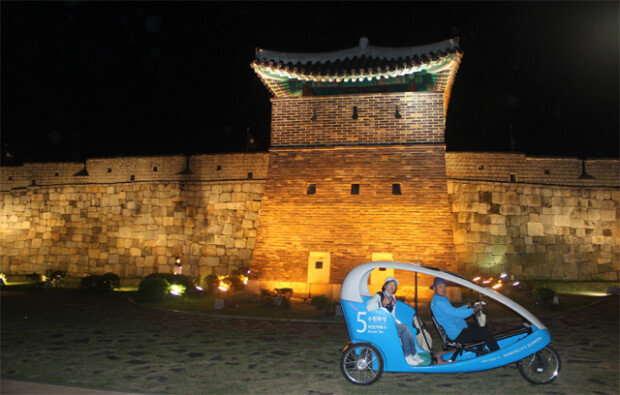 Suwon City of Gyeonggi Province announced on Wednesday that it will operate "a mid-summer night's palace," a night-time tour where people can enjoy the night scenery of Suwon Hwaseong, from Friday to September 1. A bicycle taxi will take people to famous places of Suwon Hwaweong, with the driver telling people interesting history and culture and helping people take pictures when they get off at places of their choice.
The night bicycle taxi tour operates three times a day with an interval of one hour from 7:00 p.m to 9:00 p.m. every Fridays and Saturdays, with seven to nine bicycles operating at a time. The tour course that starts at the Hwaseong Temporary Palace continues to the café ally in Haenggung-dong to Hwaseomun, Janganmun, Hwahongmun, Cheonbyeon-gil of Suwon, chicken street and the traditional market of the South Gate. It takes about an hour to look around the whole 4-kilometer course.
Suwon City has been operating the day-time bicycle taxi since March. The bicycle taxi runs throughout the year and presents thee courses; Hwaseong Tour Course, Traditional Market Course, and Hwaseongbongdon Course. Tickets for the ride can be booked at the homepage of Visit Suwon at www.suwon.go.kr/visitsuwon and Suwon Cultural Foundation at www.swcf.or.kr or purchased at the ticketing office at the Hwaseong Temporary Palace on the day of the tour. The service fee is 14,000 won per taxi (for two people) and a 4,000 won discount is granted by becoming Kakao Talk friends with Suwon City when purchasing the tickets on site.
Kyung-Hyun Nam bibulus@donga.com