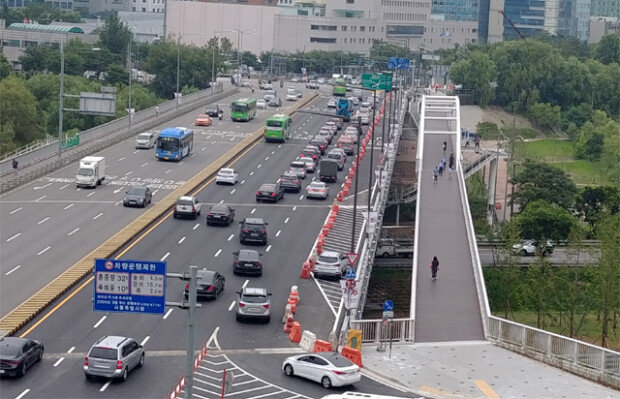 Yeoui Bridge, which connects the Daebang Station intersection and Yeoui Bridge 5-way intersection, Yeongdeungpo District, Seoul will open on Monday after completion of its expansion construction. As a result, traffic congestion in the Yeoui Bridge section, which connects Shingil-dong and Yeouido-dong with Saetgang in between, is expected to be eased.
According to Seoul City on Sunday, an additional lane was opened towards the Yeouido direction from the Daebang underground roadway in front of Daebang Station as a result of this construction. Formerly, Yeoui Bridge was in a form of eight return lanes with two pedestrian lanes at each end of the bridge. Seoul City changed one of these pedestrian lanes into a car lane. The 4-lane road changed to a straight-only road. The newly constructed fifth-lane will be for turning right.
The Seoul city government anticipates this expansion of the Yeoui Bridge to alleviate the traffic congestion in the area. It is expected that the congested time of the Yeoui Bridge five-way intersection area (the period of stop time due to reasons such as waiting for the traffic light at the intersection and crossroads) will decrease by 50.8 percent from 124.7 seconds to 61.3 seconds per vehicle.
Ki-Beom Kwon kaki@donga.com