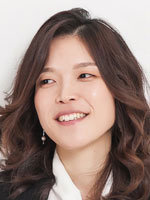 I run a small scholarship business in Korea, Vietnam and Cambodia, which I earn money for the business. It is not as big as other scholarship foundations, but it has settled into shape and my business emphasizes on supporting girls' education.
I have five students in Vietnam, four college students in Cambodia. They were selected at local schools to be awarded with college tuitions and allowances. Two of the Vietnamese students took the entrance test this year: one is very good at English, while the other has a great talent in literature.
I support local students because local colleges have more female students who have to help their family, such as housekeeping and supporting their parents. I pay tuition for girls from families whose parents cannot pay tuition for their daughters.
I have a rough idea what the future of my students would look like. The good daughters probably will bring their allowances I gave them to their parents. I send tuition directly to colleges to prevent the students from giving up their study. They will probably start sending money to their parents as soon as they score a job. And after they get married and have children, they will retire or find a job that is compatible with housework and these brilliant young women could slowly fade away. But thankfully, since they will be the only college graduate in their family, the girls will not be selling dogs or weaving palm tree leaves at home. I can imagine their entire life so vividly, but I open the messenger to talk to each of them.
Won-Joo Lee takeoff@donga.com