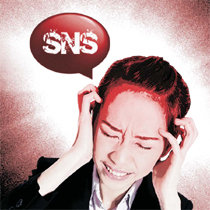 Justin Rosenstein, the man who invented Facebook's "like" button is nowadays engaged in "anti-SNS campaign" telling students not to get addicted to the like button. In the United States, a "humanitarian technology center" institution emerged where the developers of the Silicon Valley warn the adverse effect of social media but there are yet too many "voluntary SNS refugees" in Korea. People are signing out of social network or making an account for public usage to avoid uncomfortable people such as the in-laws and bosses. There were many people who erased photos of good restaurants and those taken while traveling after receiving a friend request from the elders in their households and stopped updating photos anymore. It is a paradox where social media, which was created for networking, has rather become a nuisance in a relationship.
SNS platform entities such as Facebook and Twitter, which were on the roll, are finally becoming nervous. This is because the current crisis is closely connected with the trust crisis on the platform per se. According to a recent survey conducted by global communications marketing firm Edelman of 9,000 people from nine different countries including the United States, China and France, six out of 10 people responded that they do not trust social media. This implies that people recognize personal data breach and false news through SNS to be serious.
The situation is not so different in Korea, which enjoys a joint third place in the world regarding social network usage. According to the 2018 Report by DMC Media, an advertisement platform company, daily social media usage has decreased for the first time from an average of 42.9 minutes last year to 35.5 minutes this year. In particular, the range of decrease in those who use SNS with mobile devices (8.2 minutes) such as smart phones, was larger than the time spent in computers (3 minutes). This can be regarded as a sign that the young people, who mostly use mobile devices, are buckling down to break away from social media.
Up until now, social media fatigue was mostly about addiction or a sense of comparative deprivation. Recently, however, more people appear to be leaving social networks because of advertisements that are being exposed relentlessly. This reporter logged onto Facebook after a long time but closed the page right away after seeing "venture & franchise exhibition" and "kitchenware" advertisements, which is of no interest as recommended posts. It appears to be one of the two things; algorithm, which is supposed to find you "tailored contents," is obviously not functioning well or social network companies being avaricious with money.