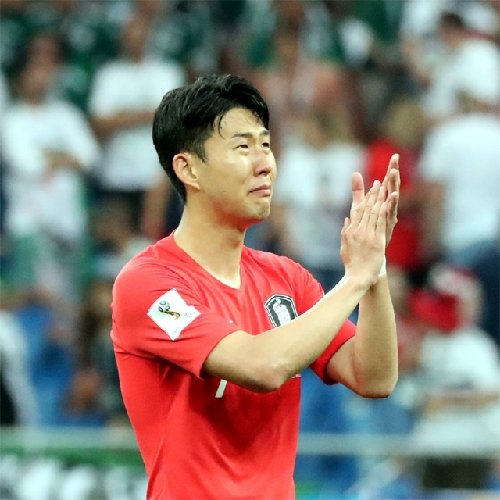 South Korean striker Son Heung-min sobbed even after scoring a goal that was beautiful and impossible to block. He had blubbered eyes when he was coming out of the ground at the Rostov Arena in Rostov-on-Don, Russia after the second 2018 World Cup Group F clash between Korea and Mexico on Sunday.
A medium-range shot Son kicked with determination at the 43rd minute in the second half when South Korea was trailing 0-2 flew over the goalpost. Son looked puzzled amid guilty conscience and cursed to himself.
At the 48th minute (third minute during extra time) in the second half, Son kicked a powerful medium-range shot with his left foot while dribbling to penetrate the right side of Mexico's defense, after receiving a pass from his teammate. The powerful shot flew about 22 meters diagonally and hit the upper left corner of Mexico's post. Guillermo Ochoa, one of the best goalies in this year's World Cup, swiftly jumped but failed to block the shot, which was immensely fast and hit the far post. The New York Times called the shot "thunderbolt."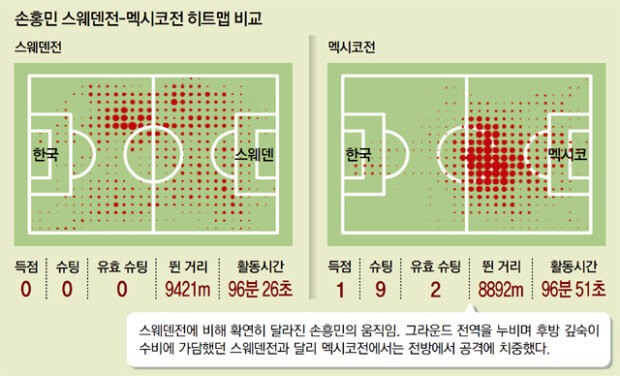 South Korea lost 1-2 in the second match of Group F in the World Cup finals in Russia on Sunday, but Son fulfilled his responsibilities and lived up to fans' expectations. More than 30,000 Mexican soccer fans who rooted for their team throughout the match became speechless when Son scored the fantastic goal. After the game, one Mexican fan was seen displaying two fingers of his left hand and one finger of his right hand to emphasize his team's victory, but he nonetheless commented, "Son, fantastic!"
Son displayed outstanding performance while serving as the frontier striker on the day. He kicked nine shots, the most among the South Korean players. When the ball was not conveyed all the way to reach the frontier from the midfield, he moved back to the half-line to serve as a bridge linking Korea's offense and defense. The BBC said "only Son Heung-min shines" in the South Korean team.
"I hope that Korean fans recognize that our players did their best on the ground," the 25-year-old star player said. "We are so thankful for unwavering cheering for the team."
He earned the nickname "crybaby" after bursting into tears when Team Korea failed to advance to the round of 16 teams in the 2014 World Cup in Brazil. "I will smile and will make the Korean people smile at this year's World Cup," Son used to say.
"No matter how much we practice and prepare, players still feel insufficient at World Cup," Son said. "I am still afraid (or the World Cup stage). I feel that I still don't have enough experience. We have to prepare more thoroughly."
Yun-Cheol Jeong trigger@donga.com