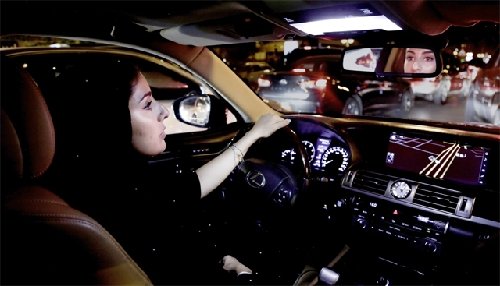 Just past midnight on Sunday, women in Saudi Arabia took the wheel across the street for the first time as the world's only ban on female drivers was lifted. Now Saudi Arabian women have their freedom to drive.
The kingdom officially ended its ban on women driving at midnight Sunday. "I never imagined in my life I would be driving on this road, I have goosebumps," a TV anchor and mother of three Samar Almogren told AFP, after driving along the King Fahd Highway in the capital city of Riyadh.
The end of the ban is "a historic moment for every Saudi woman," Saudi Arabian official state media reports in the breaking news. In September last year, Saudi Arabia's King Salman bin Abdulaziz al Saud issued a royal decree allowing women to drive. The kingdom has begun easing some of the restrictions on women such as giving access to sports events or military entrance. All of which is part of Crown Prince Mohammed bin Salman's "Vision 2030," an initiative for socio-economic reforms.
The Saudi Arabian government believes the move will encourage more women to engage in economic activities. According to the global accounting consultancy firm PricewaterhouseCoopers, three million out of 10 million women in Saudi Arabia could begin driving by 2020. Currently, about 2,000 women have licenses.
Min-Woo Park minwoo@donga.com