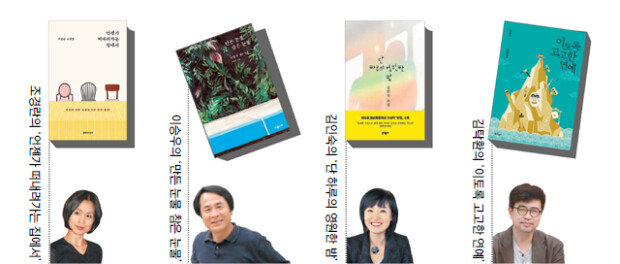 What a joy to see their names again. A number of leading contemporary authors – Jo Kyung-ran, Kim In-suk, Kim Tak-hwan and Lee Seung-woo – in the Korean literary world have come back with their new novels after a long time. These authors, who have been writing for a period of two to three decades since their debut and have created their own worlds, are extending an invitation to their ardent readers with even more gripping narratives.
"In the House Someday Be Swept Away" is a collection of short stories that author Jo Kyung-ran has published in five years. The collection contains stories that captured perturbations in mundane everyday life in a calm manner. The author describes the moments of a crack in a relationship, heartbreak and emotional waves that we encounter in our monotonous daily routine, and quietly offers consolation to readers.
In the title piece, a 37-year-old man who lives with his stepfather meets a 19-year old maiden who comes to his house as a housekeeper, and their relationship develops into a new form of family. The story, where people who have their own histories, sufferings, and peculiarities struggle, interact, embrace, and then become a family as they live together in the same place, touches readers quietly yet deeply. The collection contains "November 30th," a story about a young man who happens to miss his transfer station and take a step toward the city's main square crowded with protesters, and "Thinking of a Long Farewell," an epistolary novel where a mid-aged man says goodbye to his wife.
Author Kim In-suk's "A Single Day's Eternal Night" is a collection of short stories. The author vividly depicted protagonists and crafted compelling stories about the mystery and harsh reality of life with a little bit of comic edge and a little bit of tension. "Thelma and Louise" is about two sisters in their 90s who run away from home. It is an interesting and hilarious story in which old ladies stand up against prejudice to take on a new challenge and women of different generations begin to bond. The collection also includes "Empty House," a story about the gruesome secretive world of a man who has led a normal life, and "A Single Day's Eternal Night," a story about the death of an old professor who had been in a lifelong fight against indelible insults and humiliation for his one-off aberration.
Kim Tak-hwan, an excellent storyteller well-known for his historical novels, has come back with another historical long novel "Oh, My Lofty Entertainment," which describes the life of Dal Mun, a real late-Joseon Dynasty entertainer or clown. Dal Mun is such an ugly man with wide mouth stretching ear to ear, long years touching his shoulder, and crazy big eyes but no eyebrows, but he is incredibly gifted dancer and joker to capture the hearts of people in the Joseon Dynasty. He is a good man who cares nothing about riches and fame and always puts top priority on helping people in need, so he chooses to be a street entertainer. The fascinating life story of this nice and decent guy, Dal Mun, unfolds from the perspective of Modok, an aspiring novelist who runs a ginseng shop.
"Tear-Jerker, Tear-Choker" is a collection of 27 brief novels written by Lee Seung-woo. The author throws a question about the riddle of life through short episodes and fragments of thought. The collection contains "From Not Reading," a story about a writer who ends up being unable to write after spent years on frantically searching writing materials every time he came up with an idea, for fear of plagiarism, "Running Man," a story about a factory owner who makes it a rule to run to stay fit, finally dies due to the factory's wastewater and fumes. All stories are thought-provoking and intriguing one in which the author keenly address paradoxes in life.
Well-knit stories with flowing and elegant style are nothing short of awe. All we have to do is happily contemplate what to read first.
teller@donga.com