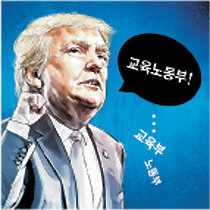 The White House announced its plan to merge Education and Labor departments into the Department of Education and the Workforce. Citing 40 vocational programs that have different operating methods as an example of duplication of effort, it said the move is "part of President Trump's 'drain the swamp' agenda." Drain the swamp, which was chanted by the president during his presidential campaign, refers to fixing deep-rooted problems in the federal government.
Under the plan, the Department of Education and the Workforce will be in charge of supervising a variety of areas, ranging from education to employment, labor and post-retirement. Apprenticeship opportunities will be expanded to help students gain experience in industrial training right after graduation. The Department of Education is the smallest among 15 Cabinet-level departments with 3,900 employees and a budget of 68 billion dollars. Even so, more than 10 percent of its workforce has been cut as the Trump administration implemented "recruitment freeze" right after Trump took office.
In the United States, each state government is responsible for establishing curriculum and education policies and each college has its own admissions system. The U.S. Department of Education had been a small agency responsible for K12 and federal student loan, before the Department of Education was created in 1979 by President Jimmy Carter. During his presidential campaign, President Carter vowed to establish the Department of Education, and in return, received endorsement from the National Education Association. But from 1980, there were calls to combine the departments back together. During the Clinton administration in the 1990s, Republicans proposed merging the Education and Labor departments.
Reorganization of the executive branch in the United States requires approval from Congress just like Korea. But consolidating the management of workforce education and vocational training is a global trend. This is because the education issue cannot be solved without addressing the employment issue and the concept of "lifelong education" is being emphasized nowadays. Britain combined its Labor and Education Department in 1995 and New Zealand (1989), Canada (1993), Germany (1994), Singapore (1998) and Australia (1998) all drastically fixed their education. The Ministry of Education of Korea, which is notorious for enforcing inconsistent policies, would be the only education department in the world that arbitrarily controls schools and spends over 68 trillion won a year without facing restructuring of its workforce.