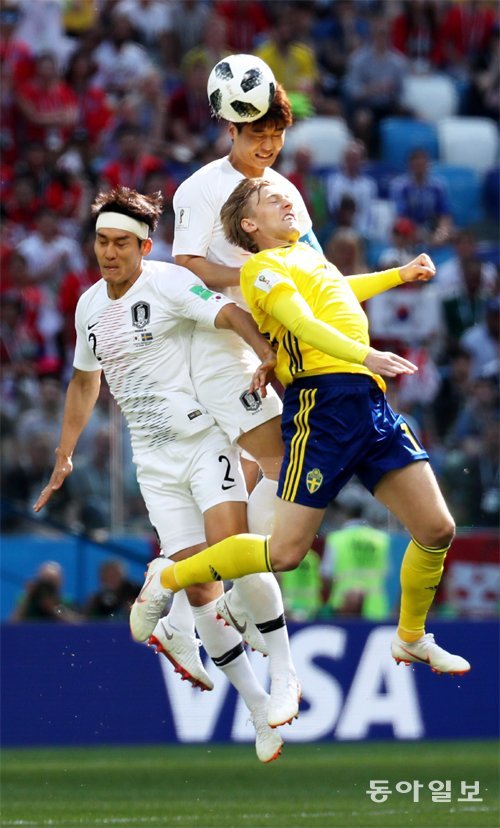 Korea played a defensive game against Sweden on Monday with a ball possession of 48 percent (52 percent for Sweden). Sweden had an average of 47 percent ball possession in the Europe's preliminary competition. But once Korea turned defensive, Sweden picked up the offense, taking hold of the game. Meanwhile, Mexico had a high average ball possession of 61 percent in the North, Central America and Caribbean's Preliminary Competition. It appears Korea will focus on defense in its match against Mexico and aim for counterattacks given that Mexico is good at offensive attacks.
But with those weak counterattacks shown in the match against Sweden, it is unlikely that Korea will score against Mexico. According to the sports performance analysis company Instat, Korea attempted a total of five shots but registered none on target at Monday's game. Among 16 counterattacks of Korea, only two ended up in shot attempts. Many pointed out that Korea lost speed with Kim Shin-wook playing as a center forward. Son Heung-min and Hwang Hee-chan, who are capable of dismantling the defense with their speed, had to play defense on the side.
Putting Son and Hwang in the forward positions would be effective against Mexico. "Goals are scored in the center. Center forwards should penetrate into the center as they do on the flank," said SBS commentator Park Ji-sung. "They would be a threat to the opponents if they play with a bit more delicacy."
Captain Ki Sung-yueng, who played a total of 103 A matches, experienced the 2010 World Cup South Africa and the 2014 World Cup Brazil. Korea advanced to the round of 16 for the first time in a World Cup held overseas in South Africa and failed to make it to the round of 16 in Brazil. "Those experiences, both good and bad, will be a valuable asset to Ki," Park said.
"We have two more matches left. We will neither be disappointed nor give up," Captain Ki said after the game against Sweden adding that he wants to lessen the burden on his teammates' shoulders. "Some of our players have no experience playing against strong opponents such as Mexico and Germany," said Ki. "We have nothing to lose now. I will encourage my teammates and make up for our shortcomings."
Yun-Cheol Jeong trigger@donga.com