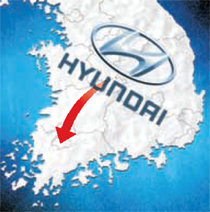 There is a unique snack called fried lattice in Gwangju City, a southern city of South Korea. The name makes one think that it is a fried version of lattice but it is actually fried calamari wrapped in lattice with hot pepper pickled in soy sauce. The lattice counterbalances the greasiness of the fried calamari, making it ever more aromatic. By getting rid of prejudice that meat goes along with lattice and fried food goes well with soy sauce, the two ingredients created a new marriage of flavors.
The half yearly salary factory that is propelled by Gwangju at the Bitgreen National Industrial Complex is similar to fried lattice. The vehicle factory is an effort to breakdown the previous frame that a job cannot be considered a good one if it does not pay well and is not a conglomerate. The yearly salary of the so-called "Gwangju model job" lies at a mere 40 million won, which is only half the average wage of workers at preexisting vehicle factories. The city, however, has decided to increase real disposable income by supporting housing, medical care and education. When considering the fact that 12,000 new jobs will be generated to contribute to local economy, it is a win-win investment for the city.
"Gwangju model jobs" is based on "Auto 5000," which is a collaboration between Wolfsburg City, Germany and Volkswagen in 1999. It constructed a separate factory within the Volkswagen Wolfsburg factory under the condition of working three more hours with 80 percent of the previous wage, and hired youths and long-term unemployed. This was a social compromise to resolve local unemployment rate which skyrocketed to 18 percent.
As Hyundai Motor submitted its investment letter of intent last week, Gwangju Mayor Yoon Jang-hyun's construction plan of the factory, which had been announced four years ago, is expected to turn into reality. Hyundai Motor decided to consign the production of some 100,000 vehicles per year, but the opposition from Hyundai's labor union emerged as an obstacle. Even though the union claimed that half yearly wage would bring down the wage of all workers, people in the vehicle industry say that it is ultimately all about "lining their own pockets." Gwangju model jobs is an agenda President Moon Jae-in also showed interest in. Will this "job experiment" become a success by overcoming the opposition of the labor union in a city, which is the key region of the incumbent "(former President) Roh Moo-hyun-friendly administration?" Whether the experiment of Gwangju City and Hyundai Motor will be able to pull off a new job model is gaining attention.
Sung-Won Joo swon@donga.com