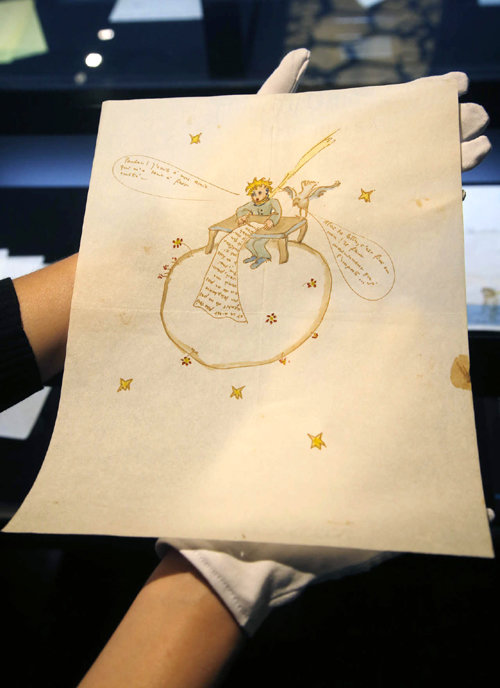 An illustration by Antoine de Saint-Exupery, renowned for his book "The Little Prince," has sold at auction for 240,500 euros (around 300 million won) on Saturday (local time). According to The Associated Press, the auction house Artcurial said the offering topped the sale of 49 autographed works by the writer.
The watercolor, done around 1942 and enclosed with a love letter, reveals the perfect likeness of the beloved character the author created for the 1943 book "The Little Prince." Saint-Exupery had initially asked other illustrators to sketch his prince, but being unsatisfied with their works, he later drew the image by himself, referring to his own illustration in a love letter a year ago.
The auction house explained that the illustration's character resembling a little prince holding a long scroll of writing represents Saint-Exupery's 11-page letter sent to a woman. Also, it is likely that the illustration was sent with the French writer's last letter in his lifetime.
The recipient of the letter is still not known. When working on "The Little Prince" in New York in 1942, Saint-Exupery was with his wife Consuelo Suncin Sandoval, who was from El Salvador. Although the largest number of Saint-Exupery's love letters were directed to her, he also had a rich, smart mistress, Nelly de Vogue. His novel "The Little Prince" has sold more than 100 million copies.
Sung-Ha Joo zsh75@donga.com