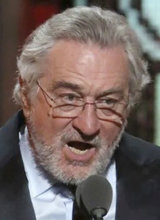 "Robert De Niro, a very Low IQ individual, has received to many shots to the head by real boxers in movies. I watched him last night and truly believe he may be "punch-drunk," posted U.S. President Donald Trump on Twitter, criticizing Robert De Niro, who denounced him at the Tony Awards ceremony.
President Trump said such by logging on to Twitter in Air Force One on his way back to Washington after wrapping up the North Korea–U.S. summit in Singapore on Tuesday. "I watched him last night. He doesn't realize the economy is the best it's ever been with employment being at an all time high, and many companies pouring back into our country. Wake up Punchy!" added Mr. Trump.
"Punch-drunk" refers to brain damage symptoms that can be observed in people who received continuous shock to the head like boxers such as dementia and aphasia. De Niro won the Best Actor for "Raging Bull" (1980) at the Academy Awards for playing the role of a ruined boxer.
When Di Niro went up to the stage to introduce Bruce Springsteen, a rock star, who won the Special Award at the Tony Awards ceremony, a Broadway play award, held in New York, the United States on Sunday, he raised up his clenched fists and shouted "It's no longer down with Trump. It's f--- Trump." The audience responded with a standing ovation.
The responses of the U.S. media on this war of words between the president and the actor, who are both in their seventies, were quite different. CNN was sarcastic, saying, "Though Trump said Tuesday he had been working 'around the clock' to prepare for his meeting with Kim, it seems he found time to watch a clip of De Niro's rant." On the other hand, The Washington Post criticized Di Niro, saying, "De Niro he brought the wrong kind of politics to the Tony Awards. The audiences want to see people they admire acting out our dearest fantasies of an America working right, where they believe all the correct things and express them the correct way. They're looking for something that's inspirational and aspirational all at once."
Taek Kyoon Sohn sohn@donga.com