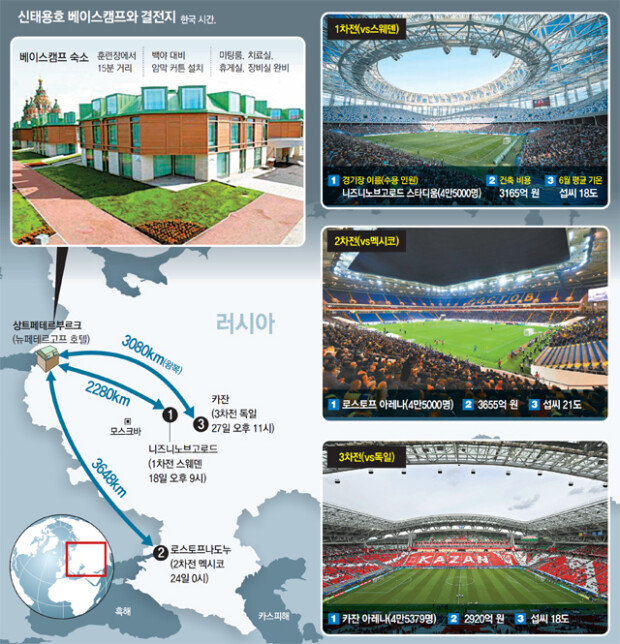 Shin Tae-yong, the head coach of the South Korean national football team, expressed satisfaction about St. Petersburg, his base camp for the 2018 FIFA World Cup in Russia. Having finished an acclimation training in Leogang, Austria, Team Korea will fly to St. Petersburg to embark on their final preparation for the upcoming World Cup stage.
Located on the outskirt of the city, the New Peterhof Hotel, where the Korean football team will stay during the international competition, will be an ideal venue for them to focus on training, with a quiet and pleasant environment. "The accommodations for the athletes are separated from tourists, offering privacy for the players," said a hotel official. The hotel has meeting rooms, infirmaries, and lounges as well. Vegetable, meat and other food ingredients for athletes will be prepared by the hotel. "We are getting a catering service for kimchi from a local Korean restaurant in Saint Petersburg," said a staff member from the national team.
Adjoined to the hotel are a lake and a park where the players can take a walk for a change. "A hotel could be enough for a short competition, but the World Cup is a long-haul battle," said head coach Shin. "Therefore we need an additional space where our players can walk off their pressure
Strong security was another reason behind the choice of the base camp. Spartak Stadium, the South Korean team's training center, has no tall buildings in the vicinity, and it is hard for outsiders to access the stadium as it is surrounded by military facilities. "The stadium is an ideal place for detailed strategies trainings as it has a low risk of exposure. Also, it is only a 15-minute drive from the hotel," explained an official from the South Korean national team.
The candidacy for South Korea's football base camp had boiled down to St. Petersburg and Moscow. The accommodations in Moscow were a business hotel near an airport whose distracting atmosphere cost the city a chance to host South Korea's base camp.
Yun-Cheol Jeong trigger@donga.com