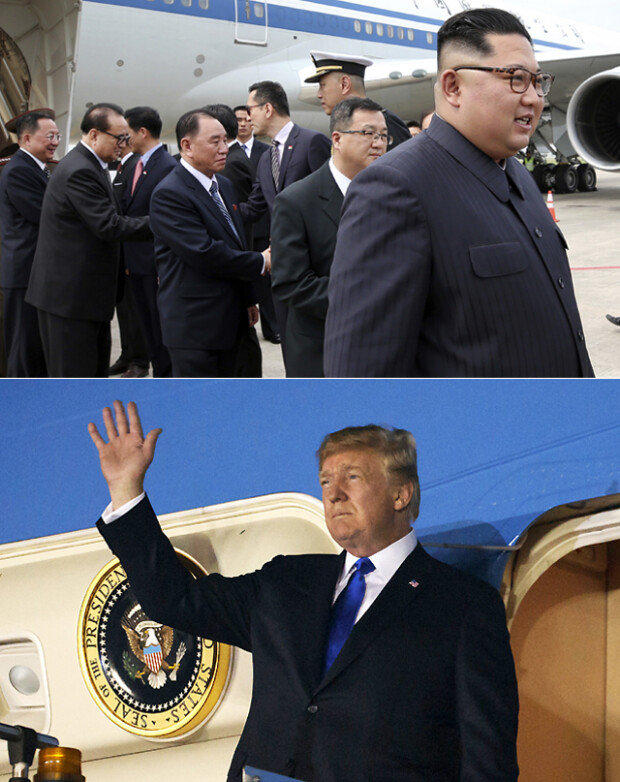 "Nuclear talks of the Century" that will determine the fate of denuclearization on the Korean Peninsula have begun as U.S. President Donald Trump and North Korean leader Kim Jong Un arrived in Singapore in succession on Sunday, two days ahead of the North Korea-U.S. summit scheduled on Tuesday. The North Korean leader, who has embarked on international diplomacy effectively for the first time except for China, held talks with Singaporean Prime Minister Li Sieng Loong right after his arrival. Ahead of his summit with President Trump, Kim kicked off diplomatic efforts to end international isolation in a bid to become a "normal state."
Kim arrived in Singapore's Changi International Airport by Chinese President Xi Jinping's Air China flight around 3:30 p.m. on the day. North Korea mobilized three airplanes, including Kim Jong Un's own aircraft "Chammae No. 1" (IL-62), one after another for Kim's trip to Singapore to ensure his security in a spy mission-like operation.
President Trump arrived in Singapore via the U.S. Air Force's Paya Lebar Air Base Sunday afternoon. Departing for Singapore after attending the G7 summit in Canada, President Trump called the Pyongyang-Washington summit a "one-time shot" for North Korea. "I feel that Kim Jong Un wants to do something great for his people and he has that opportunity and he won't have that opportunity again," Trump said.
When asked how quickly he will come to know if Kim is serious or not, Trump said "I think within the first minute, I'll know," adding "I think I'll know pretty quickly whether or not, in my opinion, something positive will happen. And if I think it won't happen, I'm not going to waste my time. I don't want to waste his time."
President Trump also said the United States has to secure denuclearization without fail and should start something. "I think he could take that nation with those great people and truly make it great in a short time," Trump said. "That's why I feel positive, because it makes so much sense." While emphasizing Kim has to clearly promise "complete, verifiable and irreversible denuclearization (CVID) in a short period of time, President Trump thus indicated that he could consider phased denuclearization as solution.
weappon@donga.com