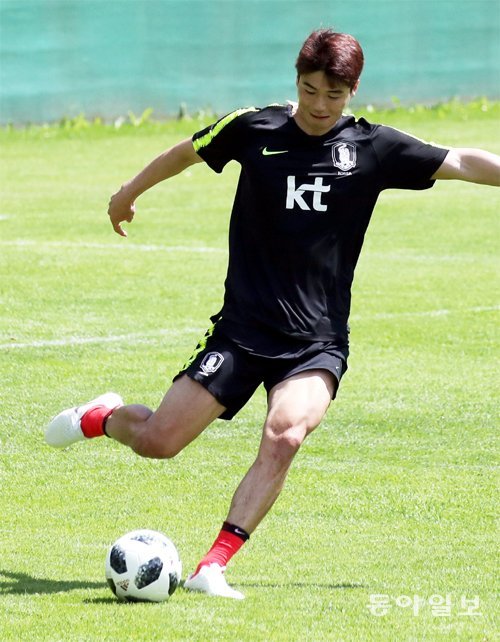 Chances are high that Ki Sung-yueng, who kicks powerful accurate shots, will serve as Team Korea's penalty kick shooter at the 2018 World Cup soccer finals in Russia. "Since I have seen Sung-yueng's kicks many times, I preemptively jumped by predicting the trajectory of his shots," said Kim Seung-gyu (Vissel Kobe), who played goalie for the national team by taking turns with Kim Jin-hyeon on Sunday. "It was too strong and sharp that it was almost impossible to block."
There is a high chance that winners and losers will be determined through penalty kicks at the World Cup finals in Russia. Already under heavy pressure, defenders often commit violations due to sense of urgency, and a video judging system will be introduced for the first time for an adult World Cup at the Russian event. "Defenders should be careful since even clever violations will be captured by the video camera," a Korean Team source said.
As for penalty kicks, kicker is more advantageous than goalie. The distance between the two is 11 meters. If kicker kicks shots at a speed of 90 to 100 kilometers per hour (average speed of shots kicked by adult male players), it only takes 0.5 seconds for the shot to pass the goal line, but goalie can only respond in 0.6 seconds.
When considering these figures, it is virtually impossible for goalie to block, but according to Fox Sports, kicker has an 80 percent chance of scoring through a penalty kick. The outcome can change due to psychological battle between kicker and goalie. A kicker sometimes kicks his shot outside the goal and fails to score, as he gets perplexed to see goalie preemptively jumping by predicting the ball's direction. "Kicker should disregard goalie's move, and only focus on where to kick his shot," said an analysis by a team of researchers at the University of Exeter. "Tracking movement of kickers' eyes has revealed that the longer time kicker sees goalie, the more anxious he gets, which lowers the accuracy of the shot."
Yun-Cheol Jeong trigger@donga.com