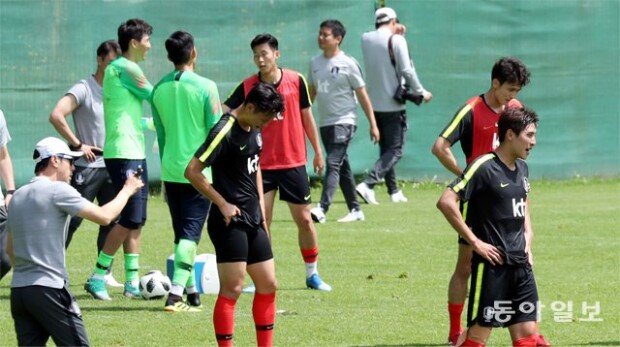 Captain Ki Sung-yueng of the Korean national football team expressed regret after the match against Bolivia on Thursday that ended in a scoreless draw due to the team's lackluster performance.
"I've been saying, 'Please look forward to our games. We'll do our best.' Now I feel like I've become a liar. I won't say 'we'll do our best' anymore," Ki said. "But we're doing everything we can, so I expect you to encourage us in playing as one."
The Korean national football team failed to score a single goal after the match, which lost a total of 38 goals in 18 matches in the South American section of the 2018 FIFA World Cup qualification. There were a lot of missed passes as there were unexpected lineup changes and intense pressing was nowhere to be seen.
Shin gave two explanations as to why the match fell short of expectations. One is "aftereffect of physical training" and the other is "fake lineup." The head coach said players were uncoordinated as a result of intense physical training and he did not make up the lineup with best members because he did not want to expose team's tactics. Shin used the word "trick" in explaining about the lineup Thursday. Some criticize Shin's strategy, saying, "When will he stop experimenting with the lineup?" And there are mixed views on physical training and fake lineup.
"I'm not satisfied with the physical condition of our players," Shin said Monday when the team arrived in Austria. "They need a month of camp training to complete the Power Program, which is hard." After discussing with the coaching staff on the night of their arrival, Shin decided to introduce Power Program. He is planning to conduct two more Power Programs in a move to strengthen the physical condition of the players by alternating between training and resting.
Will physical training that was conducted less than two weeks until the team's first World Cup tournament have an effect? Players say they do not have enough physical strength at the moment but they will have to overcome it. "There is only a short amount of time during the 90-minute game that we feel physically confident," said Lee Jae-sung of Jeonbuk Dragons. "We need physical training in order to win continuing tussles in the game."
Jae-Hyeng Kim monami@donga.com