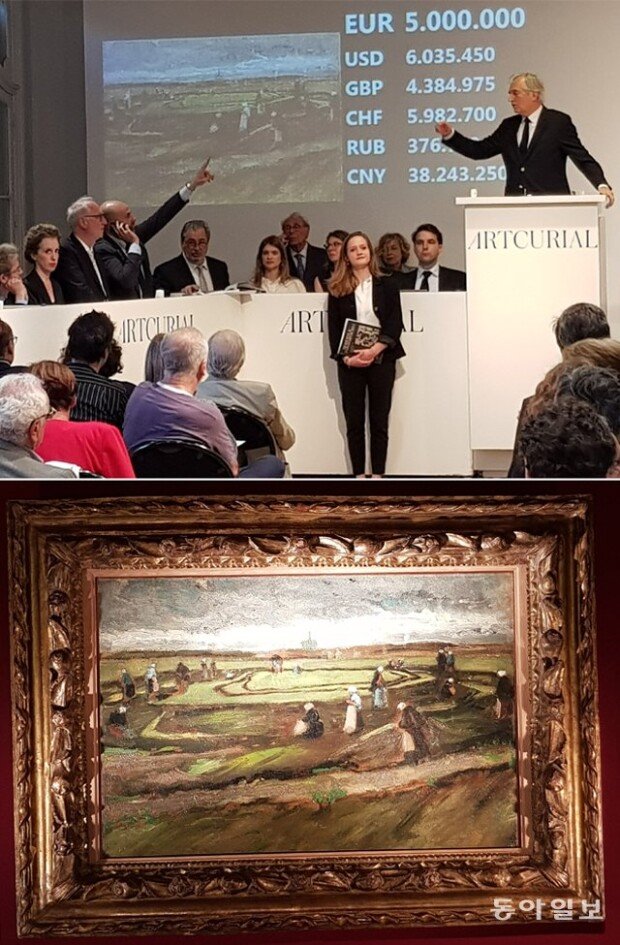 Well-dressed men and women gathered at a luxurious building located in the center of Paris Champs Élysées at 8 p.m. Monday. There, an art auction hosted by French auction house Artcurial was held. The 180-seat auction house was quickly filled with curiosos, sellers and people from galleries and art museums. Some 50 people had to watch the auction while standing.
The auction was scheduled for 57 works of famous artists, such as impressionists Vincent van Gogh and Paul Gauguin, cubist Pablo Picasso and leading pop artist Andy Warhol.
The painting that drew the most attention was "Raccommodeuses de filet dans les dunes" (Women Mending Nets in the Dunes) by Vincent van Gogh. It was the first Gogh painting to go under the hammer in more than two decades. The painting is an early work of the Dutch painter that he painted in the countryside near The Hague, the Netherlands in 1882. "It is a very important work that contains the main characteristics of the landscape paintings that Van Gogh completed in France," said Bruno Jaubert, the associate director of Modern Art at Artcurial. "Van Gogh depicted the vast landscape of the beach and the wives of fishermen mending nets as well as the dunes. What is interesting is that he highlighted the importance of the land people live on."
There was tension in the atmosphere when the Van Gogh painting was put up for auction in the 14th order. The initial price was two million euros (2.5 billion dollars) but the price jumped by 200,000 euros per second through bidding by phone, on the Internet and in person.
When the price reached at 3.9 million euros, the bidding got a bit slow, leaving only one bidder by phone and one in person. The two remaining bidders seemed to consider for a long time after the price passed five million euros. Then, an Asian bidder in the back called 5.6 million euros. But ultimately, the painting was sold for six million euros by the bidder on the phone and there was a big round of applause.
"The bidder will need to pay exactly 7.065 million euros (8.86 billion dollars) including tax," said Artcurial, adding, "The winning bidder is from North America."
Jung-Min Dong ditto@donga.com