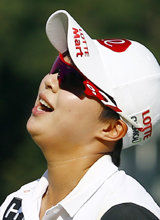 Once dubbed the "genius golfer," Kim Hyo-joo (23·pictured) smiled wide enough for the first time in a while. Even though it was not a win, she seemed jubilant thanks to the thrilling playoff match that could not be seen lately.
On Sunday, the South Korean female golfer finished the race second in the 73rd U.S. Women's Open Championship golf tournament at Shoal Creek, Alabama, the United States. Lagging behind by seven hits until the 9th hole, she spurred the pace in the latter half of the regulation game and finished it tied with Ariya Jutanugarn of Thailand at 11-under par.
In the two-hole aggregate playoff, Kim hit a birdie but had to see her championship slip through her fingers. On the fourth sudden-death hole, the two contenders both had their shots landed in a bunker, but the fortunes changed when Kim conceded a bogey with Jutanugarn keeping it under-par.
Cutting her putts down to 24 in the previous day, Kim carded five birdies with 23 putts on Sunday. Her 7-meter birdie putt and bunker shot inspired applause from Jutanugarn. "I focused on my game and played no-bogey," said Kim in an interview after the game." "I am very happy with the result."
Jong-Seok Kim kjs0123@donga.com