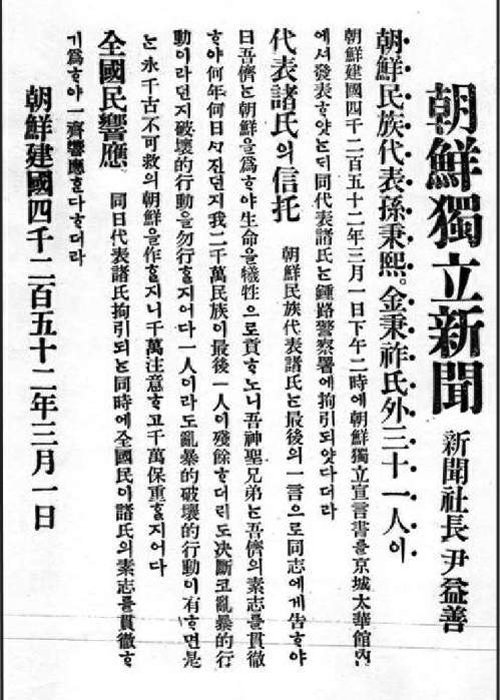 At the site of the independence movement in Seoul on March 1 in 1919, among printed materials including the declaration of independence, there were the copies of a newspaper titled "The Korean Independence News" in the size of an extra edition. The newspaper was the first underground, national press that had not been authorized by the Japanese Government General of Korea that ruled the country from 1910.
Lee Jong-il was a journalist who led the publication of the newspaper. Having handled the management of "The Empire News," Lee separately issued 10,000 copies of "The Korean Independence News" in secret while printing copies of the declaration of independence at Boseong temple. Then he appointed Yun Ig-seon, then president of the Boseong College, as the head of the newspaper because Lee himself was included in the list of 33 national representatives and subject to imprisonment (according to records of the police's first interrogation about Yun).
The newspaper was distributed with the purpose of letting people know the meaning of the declaration of independence and spreading the independence movement to all over the country by rapidly reporting the movement's developments. Around 4,000 copies of the newspaper were handed out at Tapdong Park on the day of the movement, and young believers of Cheondo religion and students also delivered the newspaper to ordinary households. The newspaper's second edition (published on March 2) also reported that the provisional government will be organized and a temporary presidential election will be held in the coming months.
The newspaper mostly focused on the news of detained national representatives, the developments of the independence movements across the country, the news of overseas countries supporting the movement, and the violent acts of the Japanese police. "The Korean Independence News," despite Japan's strong oppression, proved its strength by publishing as many as 27 editions until the end of April that year. Even after May, 10 more editions were additionally issued on an irregular basis until August with its publisher name not known.
The emergence of "The Korean Independence News," the first national press, gave rise to a number of underground newspapers both at home and abroad. In the same year, Lee Kwang-soo headed and published "The Independence News" on August 21, and "The New Korea" was first issued on October 28 by Shin Chae-ho. Both newspapers started in Shanghai, China, but were later brought to the country. Japan tried to block the publication of underground newspapers, only allowing the issuance of "The Daily News," the mouthpiece of the Government General, but finally had to permit the publication of newspapers, claiming to advocate so-called culture politics. This was how "The Dong-A Ilbo" was launched on April 1, 1920, the following year of the March 1st Movement.
ojong@donga.com