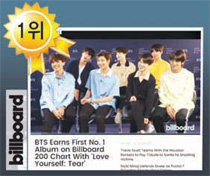 The 7080-generation was a generation that was mesmerized by pop songs in their youth. During a period when spirits and imported cigarettes were cracked down, the cramming method of education to "use domestic products" were no good to popular music. Young men and women, known as the "billboard kids," were those who were sensitive about trend and fashion, and identified with pop songs on the Billboard Chart rather than domestic songs.
It is different nowadays. Youth from foreign countries not to mention Korea go wild about K-pop. A symbolic incident occurred that demonstrated the rapid progress of K-pop. On Monday, a third official album (Love Yourself: Tear) announced by BTS ranked No. 1 at "Billboard 200," which is the album chart of Billboard, for the first time as a Korean singer. This is an unfathomable success of the 'seven boys' in the very home of pop music with Korean songs. This was the first time in 12 years since international superstar opera pop group Il Divo whose album in a foreign language ranked the best and actually the first time as a "world music" genre album that has its roots outside the United States. Rolling Stone, a U.S. magazine, introduced this incident as "officially conquering the U.S. market."
The Billboard Chart is a mirror that reflects the trend of the global popular music. Whenever a famous singer passes away such as Michael Jackson, his or her Billboard Chart record is always mentioned. The most first places record for album and single chart goes to Beatles. With respect to the single chart, PSY's "Gangnam Style" ranked No. 2 for seven weeks in 2012. In the case of album chart, the second album of BTS ranked No. 7 in 2017 but broke the record this year. Billboard assessed that this week in an incredible week not just for BTS but also K-pop as a whole.
BTS, who used to be in and out of Billboard single and album chart, is now free from one-hit wonder, where only one song makes a short success. More than 100 million viewers watched the music video of "Fake Love" from the third album in nine days since its release and received the "Top Social Artist" Award for two consecutive years at the 2018 Billboard Music Awards. The delightful and refreshing enhancement of national prestige by the Korean boy band is an occasion to celebrate for 7080-generation as well. It is a proud moment to see a Korean song raking No.1 at the Billboard Chart, which the 7080-generation used to listen from the radio for more than enough. The ambition of BTS is to become the most influential singer in the world. The day BTS fulfills its dream is now another step closer.