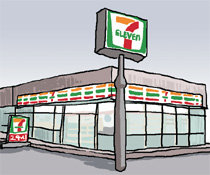 What gave rise to convenience stores in Korea? Strange to say, it was in 1982 when a nationwide curfew was abolished. To be more accurate, it was at midnight Jan. 15, 1982 when the 37-year-long curfew imposed since South Korea was liberated from Japanese colonial in 1945 was finally lifted. Some homegrown convenience stores opened but soon went out of business because they failed to capture customers who were more familiar with small mom-and-pop stores in the neighborhood. After several years of trial and error, the first franchise convenience store was introduced to the Korean market. The first branch of 7-Eleven opened at Olympic Seonsuchon Apartment in eastern Seoul in May 1989. The convenience store business in Korea started some 60 years later than in the United States and 20 years later in Japan.
According to the Korea Association of Convenience Store Industry, the number of convenience stores across the country reached 40,192 as of March this year. There were about 20,000 in 2011, but the figure has doubled in seven years. In fact, it is not difficult at all to find a convenience store wherever you go. Sales revenue from convenience stores hit 22 trillion won in 2017. Among retail businesses, the convenience store is the only business that has seen double digit growth in sales every year since 2011. Also in the United States and Japan, the convenience store business has grown in proportion to the national income levels.
One of the main reasons for a rapid growth of convenience stores in Korea is the increasing number of single-person households and two-paycheck couples. In 2016, single-person household and two-person household account for 27.9 percent and 26.2 percent, respectively, which make up more than half of all households. This means there are now fewer families who go grocery shopping to large-scale discount stores. The most popular items selling at convenience stores have not changed much over the years, which include cup noodles, triangular kimbap, soju, cup rice, lunch boxes and water bottles. It shows a bitter slice of modern family life – whether it be crazy busy couples or loners.
Due to the rapid minimum wage hike in recent months, more and more convenience store owners choose to work late into the night instead of employing part-timers. Many part-timers who hoped a better hourly pay no longer have a job whereas store owners have to work long hours. What's more, 7-Elevlen has launched its first smart convenience store called 7-Eleven Signature at Lotte World Tower on May 16. This kind of a store equipped with technology-enabled payment system and without an employee is likely to be expanded. To be sure, they offer greater convenience to consumers and franchise companies. Against this backdrop, however, I am more concerned about job market that becomes more fragile.