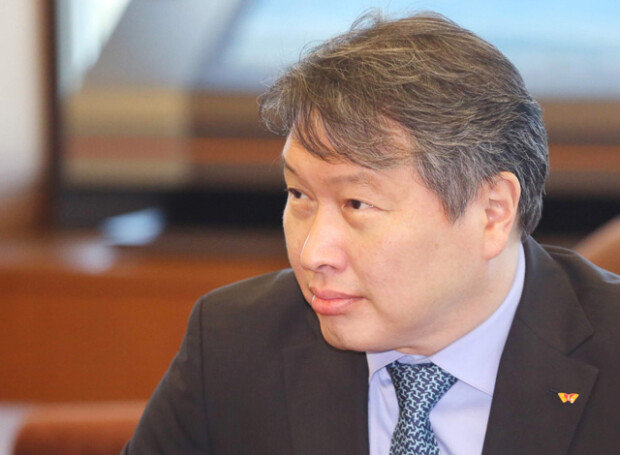 SK Group has a special organization that does not exist in other Korean conglomerates. It is called Supex, SK's top decision making council, which includes seven committees specialized in strategy, energy, chemicals, ICT and more. Since its launch in 2013, Supex is headed by CEOs of major SK affiliates. It is a top decision making body of SK Group, and it does not get involved in business management of affiliates. Instead, the council or its committee discusses topics that require a strategic review of the group. Based on the result of the discussion, each affiliate committee makes the final decision. It embodies the group's principle — individually, but also together.
Council Chairman Cho Dae-sik is known as a management specialist who understands Chairman Chey Tae-won better than anyone in the group and executes plans for him. He leads the new vision of the group "Deep Change" advocated by Chey, which includes pursuing social values and establishing shared infrastructure. He is also serving the strategy chairman of Supex.
SK E&S CEO and energy and chemicals committee head Yoo Jeong-joon is an energy specialist and in charge of global communication of the group. He closely supported Chairman Chey's global projects as global growth committee chair from 2015 to 2017. Most recently, he has been enhancing LNG and renewable energy business portfolio as he believes global energy paradigm will shift to environment-friendly energy. It is an attempt for a deep change into a green energy business.
As SK Telecom CEO and ICT committee head, Park Jung-ho is a management specialist who takes lead in finding growth engines for the group. When he was a new employee, he said to the late SK Chairman Chey Jong-hyun, "I am concerned for SK because its business portfolio for future growth is weak," which is still remembered within the group.
SK Hynix Vice Chairman Park Sung-wook heads global growth committee that looks for new business opportunities by creating synergy between SK Group and its affiliates.
Communication committee is headed by SK Innovation CEO Kim Jun. As president of SK Energy since 2015, he led turnaround of its petroleum business that was recording deficit of 1 trillion won. He is making investments aggressively by adding production facilities and constructing a battery factory in Hungary for the electronic vehicle business, which is a new growth engine.
Human resource development committee head Seo Jin-woo is in charge of discovering and nurturing future business leaders, marketing and finding future growth engines. He laid a foundation for platform business as president of SK Planet from 2011 to 2016.
Social responsibility committee head Choi Kwang-cheol supports sustainable growth by creating social values advocated by Chairman Chey. Choi directed chemical engineering, power plant, global marketing and infrastructure business as CEO of SK E&C from 2012 to 2016.
Jin-Hup Song jinhup@donga.com