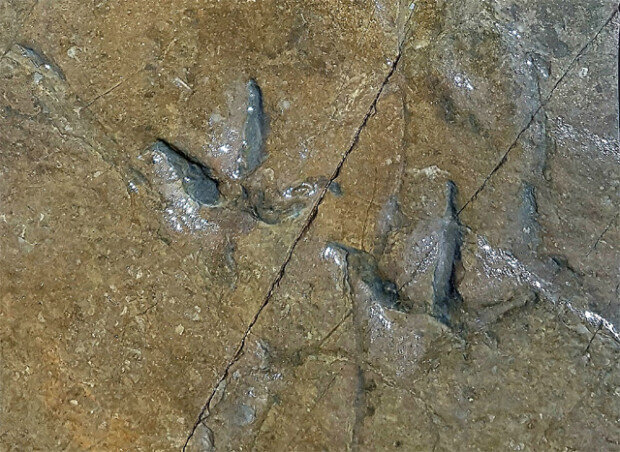 Some 30 fossilized dinosaur footprints were additionally found near the Bangudae Petroglyphs (National Treasure 285), a stone carving of whales in the prehistoric times.
The National Research Institute of Cultural Heritage announced Thursday that it has found 16 fossilized footprints of carnivorous dinosaurs and 14 fossils by herbivore dinosaurs northeast of the Petroglyphs. The institute has carried out investigations since March.
The investigation was performed on a site covering 1200 square meters or 60 by 20 meters. The fossils appeared as river-bed sedimentary layers of 3-4 meters in thickness were removed. The footprints of carnivorous dinosaurs were found to be tracks by four deinonychosaurs. The footprints measured 9-11 centimeters long and 10-12 centimeters wide. The fossils of herbivorous dinosaurs were identified as those made by two or four footed ornithopoda.
"The fossils are the best preserved of its kind found near the Petroglyphs and also the first of its kind featuring identifiable trackways," said an official with the institute.
Won-Mo Yu onemore@donga.com