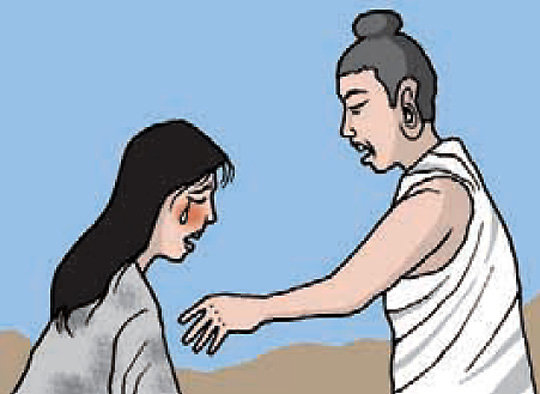 People threw garbage and lumps of dirt to her, saying she was crazy. Even the Buddha's disciples thought the same about her and yelled, "Stop that crazy woman from coming near the master!" Yet, the Buddha was different. "Do not stop her approaching me." The woman got down on her knees at the Buddha's feet and sobbed away. The Buddha lent an ear to her sympathetically.
Patakara, the daughter of a rich merchant, went against her parents' wishes and ran away with a male servant she was in love with. However, when she got pregnant and reached the last month of pregnancy, she was overwhelmed with a great sense of homesickness. She left to head home, but could not arrive because she had to give birth mid-journey. The same happened when she was expecting her second child. Heavy rain started to fall, and Patakara was suffering from labor pains. Her husband went out to find branches to build a shed where they could take shelter from the rain, but was bitten by a venomous snake to death. It was under such circumstances that she gave birth to her second son.
In the morning, she set off on a journey with her children. The river emerged, risen to the waist level because of the rain that had poured overnight. Patakara decided to cross the river with one child at a time, and brought her newborn baby first to the opposite side of the river. Yet, while returning to get her first child, she saw a hawk snatch the baby and shrieked out loud. At that moment, her eldest son mistook her screaming for calling him and jumped to the river. Patakara's two sons died like that. Worse still, she also lost her parents and younger brother in a blaze. All these tragedies made Patakara lose her mind.
After listening to her story, the Buddha said. "Do not suffer from anguish any more. You have come to me, who can console you and provide you a place to rest. Today is not the only day you have gone through disasters and tragedies," he said. "Throughout infinitely recurring years, you have lost precious sons and people, and shed tears more than the waters of the four oceans." The Buddha comforted her, using the concept of samsara and karma. What also consoled Patakara was the Buddha's mercy that expanded an individual's pains to the subject of universal existence. "The waters of the four oceans pale next to the tears we shed." Through his merciful eyes, the Buddha saw the tears of all humans in Patakara's tears.
Won-Joo Lee takeoff@donga.com