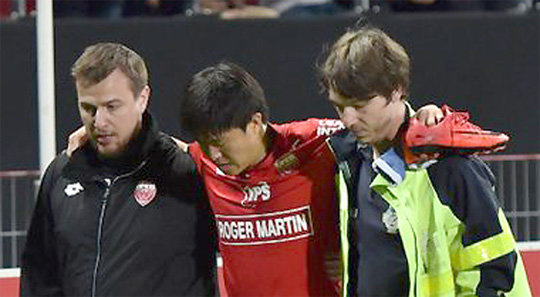 When it rains, it pours. This saying just about sums up the current situation of South Korea's national football team led by Shin Tae-yong. Kwon Chang-hoon (24, Dijon) who is on a roster for the 2018 FIFA World Cup in Russia sustained an injury on Sunday, giving bigger headaches to the head coach.
With 14 minutes remaining in the final game of the league with Angers held at Stade Gaston Gérard in Dijon Sunday, Kwon fell onto the ground right after fellow player Julio Tavares scored the winning goal. Having tripped several times during the game, the South Korean player had to limp off the field with the help of staff.
The news of the latest injury is nothing but a bolt from the blue for the country's national football team, which has recently lost several key players due to a series of injuries. Defender Kim Min-jae (22, Jeonbuk) and midfielder Yeom Ki-hun (35, Suwon) were already ruled out of the preliminary squad, and the team's left-back Kim Jin-su (26, Jeonbuk) is on a squad but still recovering from injury.
Scoring 11 goals in France's League 1 this season, Kwon has been hailed as an ace player to lead the country's national football team. His injury comes as even more ill-timed as striker Lee Keun-ho (33, Gangwon) was also stretchered off the game on Saturday after sustaining a light injury.
Jae-Hyeng Kim monami@donga.com