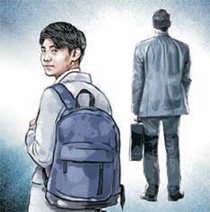 As summer comes nearer, more people work out to become fit. To achieve this goal, exercise, nutrition and rest is essential, as our bodies build muscles when we rest, rather than when we work out. Experts say that a day of rest is recommended after two days of physical workout.
Rest is just as important in delivering work excellence. According to "Rest: Why You Get More Work Done When You Work Less," a book written by a Silicon Valley consultant, work performance is determined during non-working hours, suggesting that work and rest are not opposite concepts, but complementary. People who work less and rest more get more work done. The same is true for studying: the brain needs rest to work better. This is also evidenced by numerous research outcomes that imply that play time strengthens memory.
But in Korea, people turn a deaf ear to such claims. It is difficult to witness an ideal study and life balance among students. According to a research carried out by Childfund Korea, the average elementary/middle/high school student rests 48, 49 and 50 minutes, respectively, on a school day. Elementary school students, in particular, had the longest study hours on weekdays and the shortest rest hours on weekends. An elementary school student's daily schedule reported to The Dong-A Ilbo showed that an average of 11 hours were spent studying. Some children even went to bed past midnight, after tiring hours of tutoring and attending private institutes.
Children who are under too much study pressure are known to become anxious and discomforted during rest time, because they are unaccustomed to planning their own time. Koreans are bombarded with study pressure as children and struggle to strike a decent work-life balance when they grow up. The older generations, who have fond memories of playing outdoors into the night, take pity on this reality. It is questionable whether children burdened with study pressure are fit for the 21st century, where creativity and imagination are valuable assets. Rest should be seen as essential, for efficient study as well as being better equipped for the future.
mskoh119@donga.com