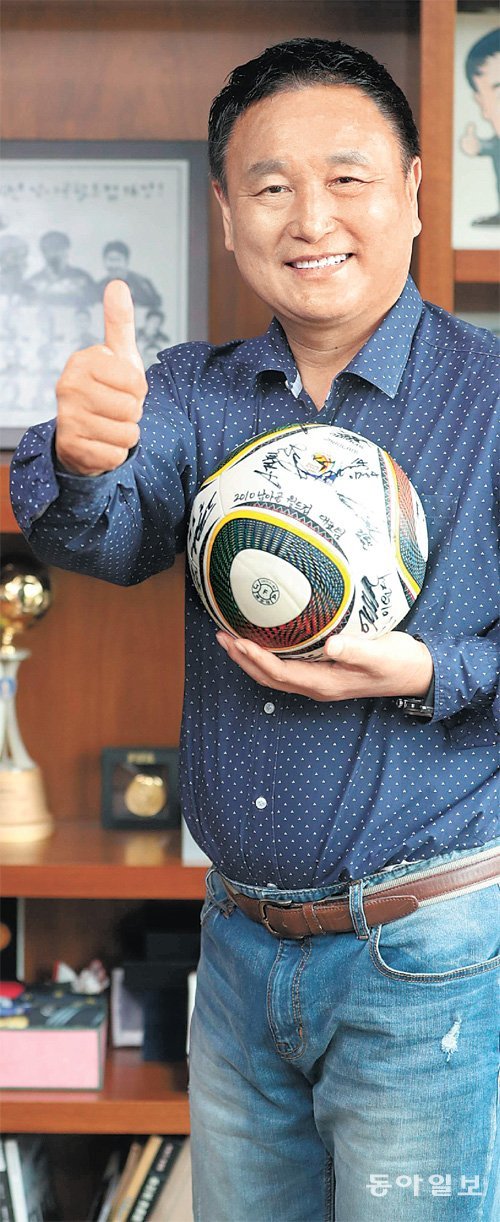 "We can lose three times and we can enter the round of 16. It is a fifty-fifty chance. So, there is no need for us to be pessimistic. Let's be hopeful," said K League Deputy Commissioner Huh Jung-moo to the Korea National Football Team. Huh praised the team with much affection. The deputy commissioner, who participated the Mexico World Cup in 1986 as a player and fought with the hero of Argentina Diego Maradona, accomplished the great work of sending the Korean national team to the round of 16 during the South Africa World Cup in 2010, a home-away game, as a coach. This writer met Huh Jung-moo at his house in Seorae Maeul, Seocho-gu, Seoul.
"Some people make hopeless remarks that the national team may lose all three games at the team league," Huh said. "However, we can fully enter the round of 16 depending on how we prepare."
Deputy commissioner Huh acknowledge that Sweden, Mexico and Germany, countries that Korea will be facing at Group F are all very powerful but that it is not impossible to defeat them.
"Sweden is much easier to deal with compared to other European teams. It came into the finals after being unilaterally overpowered by Italy at the Europe playoff. It is powerful compared to other European teams but do not have the acuity. Let's take a look at Mexico. We feel psychologically more comfortable with Mexico than South American teams. Also, let's not forget that Korea did well in games with Mexico. Although Korea lost in the France World Cup in 1988 as Ha Seok-joo became a back tackle but the details of the game per se was not bad. Our national team fought well during the London Olympic Games in 2012 and tied with Mexico. Germany is without a doubt the world's best. Fortunately, Korea will meet Germany at the very last stage. If Germany wins two games before competing with Korea, they will not be obsessed about winning the game so as to concentrate on the round of 16. I have to say that this is not the group of death," said Huh.
"We have a pretty good team from offense to mid-fielder and defense consisted of overseas players such as Son Heung-min (Tottenham) and Ki Sung-yueng (Swansea City) and Kwon Chang-hoon (Dijon) and domestic players such as Lee Geun-ho, Kim Shin-wook, Lee Yong and Park Joo-ho."
Huh also emphasized that it is crucial for coach Shin Tae-yong to use coach Toni Grande and physical coach Javier Minano well.
"It is important to use coach Grande well as he has experience in leading the world's best professional team Real Madrid and Spain's national team. It is critical for the team to discuss and make the best decision rather than for the coach to press onto something with this youth."
The deputy commissioner also reiterated communication between players. "You have to believe in the players. Favoritism collapses the organizational power. It is also important to acknowledge players who play an active part globally," he said. "For instance, in the case of the South Africa World Cup, the team believed in Park Ji-sung, Lee Young-pyo and Kim Nam-il as there were many players with ample experience back then. It is natural for juniors to take the steps of their seniors when they see their seniors take the lead and set an example. It is also the role of the coach to make players trust each other."
Jong-Koo Yang yjongk@donga.com