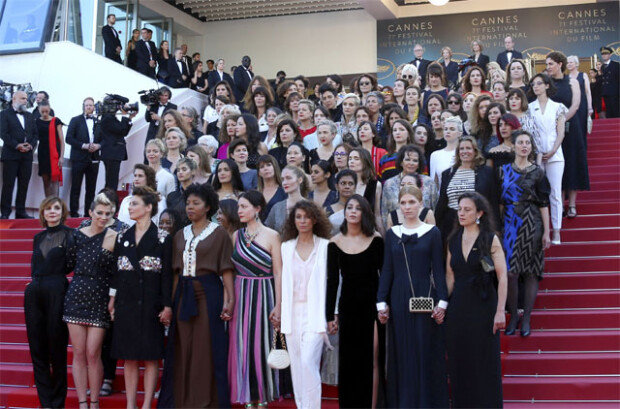 "We are 82 women, representing the number of female directors who have climbed these stairs since the first edition of the Cannes film festival in 1946," said Cate Blanchett who led female stars in a red-carpet protest at the Cannes Film Festival. "In the same period, 1,688 male directors have climbed these very same stairs."
British press including BBC reported that 82 actresses, female producers and directors held a protest Saturday (local time), demanding gender equality in the film industry. Actresses including Cate Blanchett, Jane Fonda, Kristen Stewart, filmmakers such as Patty Jenkins who directed Wonder Woman and journalist Melissa Silverstein of Women and Hollywood participated in the protest. This year's jury president Cate Blanchett and Cannes veteran Agnes Varda read the same statement in English and French.
"The prestigious Palme d'Or has been bestowed upon 71 male directors, but only two female directors," said Blanchett. "(We want) a world that allows all of us behind and in front of the camera to thrive shoulder to shoulder with our male colleagues."
The protesters marched arm in arm and climbed the stairs along the red carpet. They hold hands while Blanchett read out the statement and raised their hands when it was over, showing their solidarity.
The 82 protesters symbolize 82 female filmmakers who were invited to Cannes over the past 71 years. Also, the location of the protest — stairs — signifies how hard it is for women to climb the stairs of Cannes.
Some protesters wore black dresses or suits to protest against the strict "dress code" demanded for actresses.
chan2@donga.com