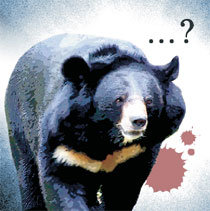 A Korean black bear escaped some 90 kilometers from Mount Jiri to Mount Sudo in Gimcheon in June last year. It was one of the bears the Korea National Park Service released to wild in 2015. The state agency captured the bear to ensure people's safety, and brought it back to Mount Jiri. Then, the bear escaped to Mount Sudo again about a month later. The bear thus recaptured was named KM-53. It means the 53rd male bear born in Korea through a species restoration project that started in 2004 since the bear's extinction from South Korea in 1982.
KM-53 was hit by a tourist bus at Hamyang Junction on Daejeon-Tongyeong Expressway while escaping again at an early morning on May 5. When the bear was captured at Mount Taebong in Hamyang on Friday, it had its left paw fractured. The bear was moved to Mount Jiri where it is currently receiving treatment. Experts believe that the bear's purported destination was Mount Sudo in Gimcheon again. It has now become clear that KM-53 has sought to find its new habitat on Mount Sudo.
Currently, 56 Korean black bears are living on Mount Jiri, a sanctuary that experts say can accommodate up to 78 bears. The number of bears on the mountain is expected surpass 100 in 2027. It means the number of Korean black bears that will leave Mount Jiri in search of new habitats will inevitably increase over time, particularly if they are as tenacious and adventurous as KM-53. Under this circumstance, eco corridors enabling Korean black bears to migrate through have become all the more important. Environmental groups had already argued the section where the bus accident happened is the most dangerous among the sections KM-53 have migrated through.
More than 2,500 wild animals including elks, raccoons, wild boars and badgers have become victims of road kills on Korean expressways every year. Toad cubs that grow up in the pond are run over by the car to death while crossing road en masse every spring. Eco corridors are paths designed to enable wild animals to survive, but in reality, they only provide paths without "eco-friendliness" in Korea. There are countless tunnel paths filled with garbage, human overpass type paths covered with cement or bricks, and overpass type routes blocked by cliff-like hills. It might be a good idea to place honey along eco corridors to allow the four-year-old black bear to find its right path for a safe journey.
Kwang-Pyo Lee kplee@donga.com