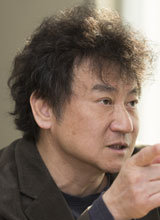 Korean novelist Kim Jin-myung has captured people's attention by writing novels deeply linked to developments on the Korean Peninsula such as "Thaad" that had predicted conflicts between South Korea and China over the missile defense system and "U.S.-China War" that depicts the two countries seeking a possible war.
"Kim Jong Un has no reason to put on a show because he may be aware that pretension will only lead his country to a greater risk," said Kim in an interview with the Weekly Dong-A published Friday, when asked about the conservatives' concerns that North Korea is pretending to display a peace gesture to the South and the United States. "It is just that we find it difficult to trust the North because of lessons learned from the past."
"Military power is what allows the United States to maintain the strength of dollars, so North Korea has been a necessary evil for Washington because it has provided the country with excuses to build military power. Yet, following dialogues this time around, such a role of North Korea should be changed," Kim stressed. "It is important to persuade North Korean leader Kim Jong Un and President Donald Trump to believe that once North Korea abandons nuclear weapons, incorporating the North Korean economy into the South Korea-U.S.-Japan economic alliance will not only guarantee the safety of Pyongyang's regime but also work in the national interests of Washington.
"Following the disposal of North Korea's nuclear weapons, Pyongyang and Washington can establish a customs union so that the North can export its products to the United States with no tariff. Then Pyongyang will be able to import products made by U.S. manufacturers such as machinery, plants and super computers with money earned through exports," Kim said. "This will allow the United States to not only reduce trade deficits with China but also increase its exports in the manufacturing industry, killing two birds with one stone. Pyongyang may also be able to grow its economy in a short period of time by importing U.S. production facilities and building infrastructure."
The South Korean novelist stressed that while the two Koreas and the United States should be at the center of an economic partnership, Japan should be also included as a safety valve. "If the thoughtless remarks of some of Japan's right-wing politicians are left to shake the trilateral security and economy frame, it will put the entire country in danger," said Kim. "It is risky to link emotional issues with the alliance. U.S. Armed Forces in South Korea and the trilateral alliance are a safety valve that we need in order to secure our national interests."
jhkoo@donga.com