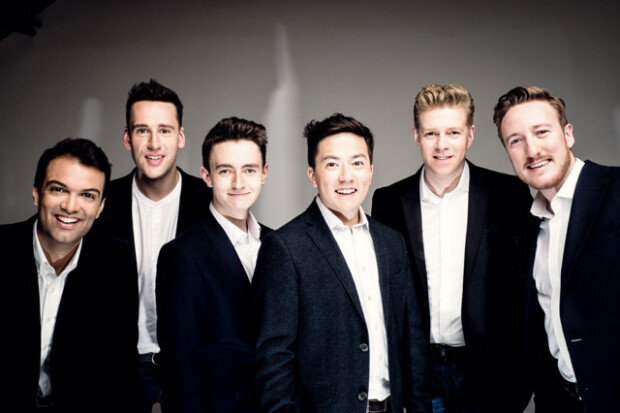 "A cappella" refers to an "oratory," the prayer room of a church, in Italian. It originated from the music for choral singing without musical instruments during the 16th century when the use of a pipe organ was not allowed in a small prayer room. World-famous a cappella vocal ensembles, Britain's "King's Singers" and Spain's "B vocal" will soon have much-awaited performances in Korea.
King's Singers, often dubbed "Beatles of a cappella singing," will hold a performance celebrating 50th anniversary at Lotte Concert Hall in Songpa District, Seoul, at 8 p.m. next Wednesday. From famous pop songs to music written by Toru Takemitsu, the concert will feature a wide repertoire. Having performed Korean songs including "Arirang" and "Magic Castle" during past performances in Korea, the ensemble is also believed to have prepared a surprise gift for the Korean audience.
The group King's Singers was formed in 1968 by six choral scholars at King's College in Cambridge, England. Over the following five decades, the group has maintained its composition of six singers in total, namely two countertenors, one tenor, two baritones and one bass. Yet, their membership has changed, and there have been 26 members since the group was established.
What brought them to stardom was the group's clear sounds, a wide range of genres they cover and witty performances. Christopher Gabbitas, who joined the group in 2004 and is the longest-serving member among current members, said that the group could perform this long thanks to a tradition that those leaving the team would pass on all they know to newcomers. That the group could cover various genres ranging from classic and romantic through pop and folk was also its strength, according to Gabbitas.
B vocal, a five-member a cappella group from Spain, will also hold a performance at Seoul Arts Center in Seoul at 5 p.m. on June 9. Then the group will tour the country to meet with the Korean audience at Namdong Sorae Arts Hall in Incheon and Gyeongsan, North Gyeongsang Province. B vocal is one of the groups most beloved by Spanish people including Juan Carlos I, who once told the group to "let the world know Spain through a cappella songs."
The ensembles' performances serve as a delight not only to the eyes and ears of audiences but also to their soul. Members with different backgrounds, including a lawyer, sommelier, physicist and flamenco instructor, always put their heads together to put on a show that is too energetic for audiences to stay still in their seats.
For this year's performances, the Spanish group has reportedly prepared opera songs such as "The Barber of Seville" of Rossini and "The Magic Flute" of Mozart as well as Leonard Cohen's songs and K-pop music.
Seol Lee snow@donga.com