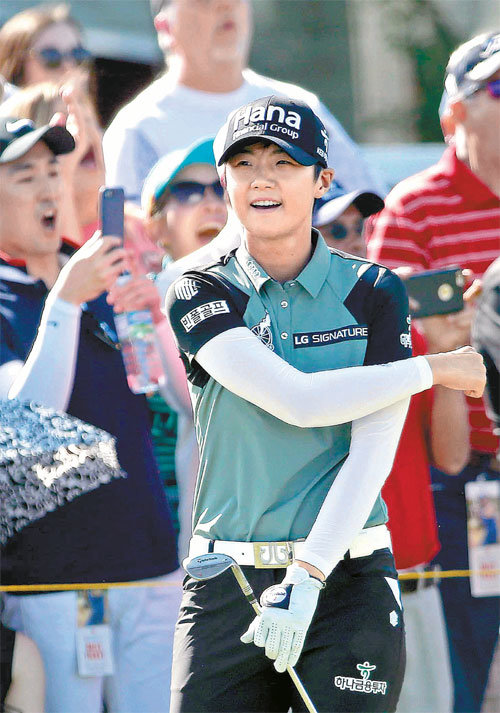 The hole was 20 yards off. It was quite a distance, and the hole was in a tricky position. It was an uphill course to the hole, followed by a downhill past it. Keeping it under par was a success enough.
South Korean golfer Park Sung-hyun grabbed her 58-degree wedge, and her chip rolled towards the hole and found the cup like magic. The chip-in birdie sealed the first win this season for Park who was suffering her second-year jinx. The chip shot was inspiring enough to make Juli Inkster, a 58-year-old golf legend from the United States, raise her hands for a high five with the South Korean winner. The 24-year-old, who suffered an early-season slump, has chalked up her first LPGA Tour win this season, thanks to her two awe-inspiring chip shots.
Park won the American LGPA Texas Classic on Sunday (local time) at the Old American Golf Club, closing the race at 11-under-par 131.
Originally planned for 72 holes, the game was reduced to 36 holes because of weather. In the final round of two, Park outpaced Lindy Duncan by one stroke, with one eagle, five birdies and two bogeys. This is her first win in nine months since the Canada Pacific Women's Open in August last year, and her third LPGA win. The winning prize is 195,000 dollars.
Having won the Rookie of the Year and co-Player of the Year titles, as well as the money list, Park took the LPGA by storm last year but since then, she has suffered a slump early this season. She missed the cut twice in seven starts, and put her name on top 10 list only once. After taking a week-long break, however, the South Korean handled her short game with steady hands and showed off her hitting power again, finally breaking her second-year jinx.
"Over the last week, I cut the hours for shot practices and instead spent more time practicing chips and putts. It was a change from my routines, practicing putts and having conversation with my mother throughout the week, and it helped a lot," said Park. "I went through some difficult time this year, but I can completely forget about it thanks to the victory. I will further my effort to reach my goal of three wins this season."
Heon-Jae Lee uni@donga.com