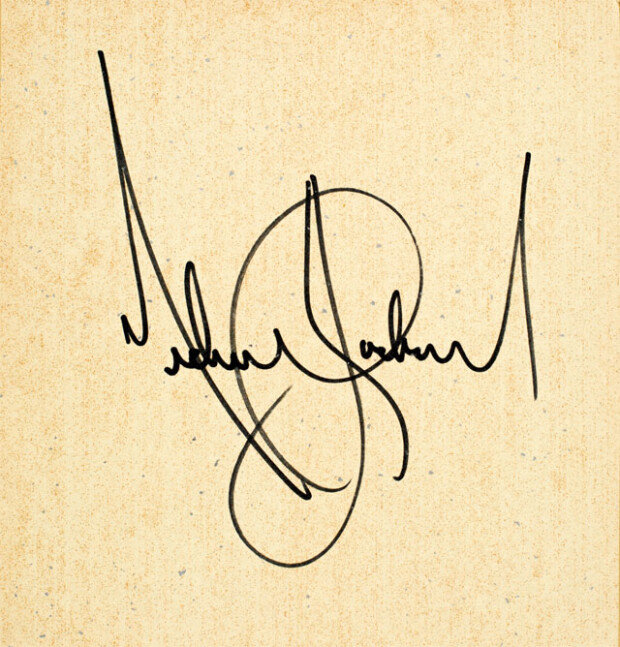 An autograph reveals the personality of the writer better than any handwriting as it is repeated thousands of times. Nearly impossible to copy for others, an autograph is typically the first subject of scrutiny when analyzing the authenticity of documents, paintings or calligraphies.
There is a consensus among graphologists that the tip of a horizontal and vertical strokes each pointing to the upper right and the left side are indicative of an optimistic personality while the pointing to the opposite directions means a depressive tendency. A close look at the first letter of M from Michael Jackson reveals that the apex on the upper right side is placed much higher than the tip of the left side, soaring upward almost vertically. From here, you could tell that the late king of pop music was nothing if not optimistic.
The analysis of his name suggests a delicate balance of coexistence between different propensities that do not normally accompany one another. The bold circling of l and J's curves attests to a fully energetic personality. By contrast, his small and balanced writings are indicative of logic and reason. Round strokes are associated with artistic streaks, but his M is written with both straight lines and angles, a testimony to strength and decisiveness.
In the alphabet letters, the upper and down areas are more developed than the rest. The upper most part is translated into ideology, ambition, and mental characteristics while the down side reveals instinct, secrets, sex and materialistic interest. The middle part, which symbolizes daily behavioral patterns, reason and social confidence, is also above the average, but it is dwarfed by the rest parts.
Won-Joo Lee takeoff@donga.com