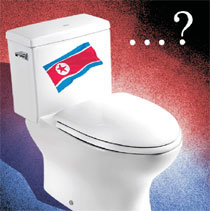 Other than the now-world-famous Pyongyang cold noodles, there was one more thing that North Korean leader Kim Jong-un brought to the truce village of Panmunjom for the April 27 inter-Korean summit: his personal toilet. A North Korean defector who worked in a North Korean Guard Command unit before coming to the South told the Washington Post that Kim would bring "a personal toilet that follows him around when he travels" because "the leader's excretions contain information about his health status." CBS also earlier reported that Kim refused to use a public restroom at Peace House.
For that reason, presidential office Cheong Wa Dae reportedly took extra care about preparing the restroom at Peace House so that the secretive leader's excretions could be taken away, but it is unknown whether Kim actually used the restroom during the meeting. A former senior diplomat once said that the more hostile a country is, the less likely its leader is to leave any traces behind. Yet, it is part of diplomatic practices to keep the health status of a national leader top secret. Former South Korean President Kim Dae-jung also followed custom for the inter-Korean summit held in Pyongyang in 2000, when he was greeted by former leader of North Korea Kim Jong Il, who said "You have come a hard, fearful, scary way."
Urine and feces have long been used to check one's health status. As described in a film "Masquerade" through a scene where the King's defecation is tasted by his personal physician, the excretion of a King during the Joseon Dynasty was thoroughly examined and recorded by physicians. Things are not that different today. For instance, the security guards of the White House take back home not only the excretion but also paper napkins used by a president during an overseas trip in order to prevent any possible leakage of personal information including DNA.
Intelligence agencies around the world go to all lengths to find out the health status of an enemy's head of state. In 1959, ahead of a visit of Soviet statesman Nikita Khrushchev, the U.S. Central Intelligence Agency (CIA) pulled out the toilet pipes at Camp David and even added defecation promoting agents in his food. The agency's analysis of Khrushchev's defecation showed that he was quite healthy for his age. During the latest inter-Korean summit, Kim Jong Un did not even use a pen prepared by the South side, probably because of concern that a nib may contain poison, according to Japanese media outlets. It seems we have a long way to go to truly achieve the reconciliation of the two Koreas.
Su-Jin Cho jin0619@donga.com