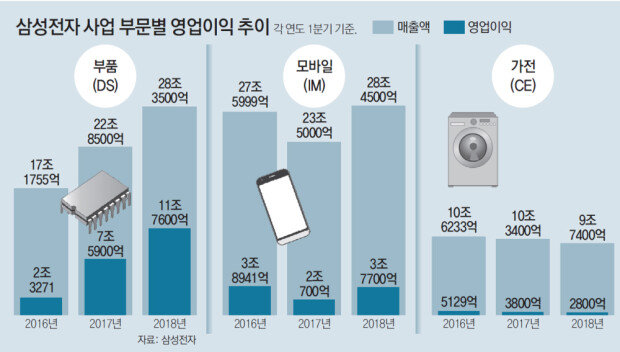 Samsung Electronics has set a new profits record again. Following the success from last year, the company's semi-conductor business led its overall growth, with the IT & Mobile Communications division making a fair share of contributions. On Thursday, , the South Korean electronics giant posted an announcement on Q1 operating profit of 15.64 trillion won. As much as 73 percent of it (roughly 11.55 trillion won) comes from its semi-conductor business. The company posted 60.56 trillion won of overall sales, surpassing the mark of 60 trillion won for the fourth consecutive quarter.
Despite the flying colors, however, the internal atmosphere is not as much festive as one might expect. Lately, the South Korean government and the ruling party are increasingly taking issue with Samsung's governance, with the bills proposed by the ruling party such as an insurance business act and a revised fair trade act are all aimed at the managing structure of Samsung Electronics. The prosecution on Thursday seized and searched the Korea Employees' Federation building as part of its investigation over an alleged forced dissolution of Samsung Group's labor union. The purpose is to secure evidence including the documents and hard disks used for management and labor communications of Samsung Electronics Service. Previously, the prosecution had made a raid on the Samsung Electronics Service offices in Suwon, Gyeonggi Province, on April 6 when the company made a provisional profits announcement.
In the first quarter of this year, Samsung Electronics yielded 20.78 trillion won of sales and 11.55 trillion won of operating profits with the semi-conductor business alone. The rate of operating profit hovers over 50 percent. In fact, this is the first time that Samsung's semi-conductor business has posted more than 11 trillion won of operating profit. The performance is even more meaningful as the first quarters are a dry season for semi-conductor business. In the fourth quarter of last year, Samsung's semi-conductor business division recorded 10.9 trillion won of operating profit.
"Thanks to the sustained strong demand driven by servers, the semi-conductor business showed a strong performance even in the face of a slow season," said an official from the South Korean chip maker. "The demand for mobile NAND Flash has dropped, but the demand for high-capacity devices has increased thanks to the expansion of cloud infrastructure."
Samsung expected that the boom of semi-conductor market, also dubbed the Super Cycle, will continue for a while from last year. "As to D-RAMs, the demand for data sensor servers is fast expanding into the Chinese market, and the NAND Flash demand is going up, with high-capacity devices at the center of the growth. The memory semi-conductor business will continue to post upbeat numbers in the second quarter of the year," explained the official from Samsung.
Dong-Il Seo dong@donga.com