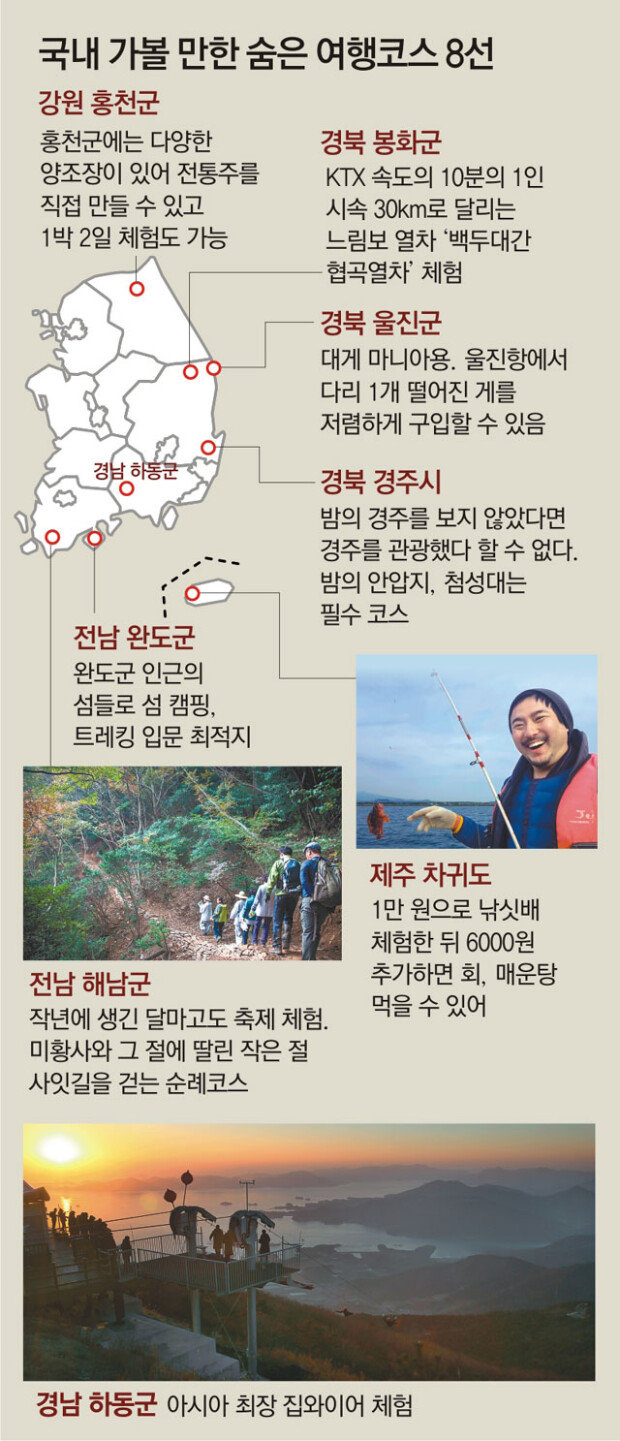 A tractor with the speed of 30 kilometers per hour is hardly a popular choice for travelers. Still, Kang Ki-tae chose the agricultural machine to travel more than 22,000 kilometers around the world including Turkey and China.
Upon his return after trotting the globe, the 35-year-traveller began to actively promote domestic tourism in 2014 by establishing the "Travel University" where about 100 travelers serve as mentors for those who wish to travel around the country. One of his suggestions is to go fishing to the West Sea by taking a fishing boat at a port in Chaguido near Jeju Island at only 10,000 won per person.
After fully enjoying fishing, you can next visit Biyang Island, west of Jeju Island. A ship bound for Biyang Island leaves at three times a day, 9 a.m., 12 p.m. and 3 p.m., at Hallim Port in Jeju City. Designated by UNESCO as a global geopark, Biyang is a volcanic island known for being car-free.
Local governments have also made great efforts to boost local tourism. South Jeolla Province, for example, completed the "Old Road of Dharma" in Haenam County last year, which is a pilgrimage route that connects a total of 12 hermitages starting from Mihwangsa, a Buddhist temple on Mount Dalma.
Mount Dalma is often called the "small version of Mount Kumgang" because of a number of oddly formed rocks and stones that resemble a dragon's back. The road was created so that ordinary travelers can take a walk through the beautiful path that only monks used to pass through. In order to minimize possible damage to nature, materials needed for making the road were all carried by workers themselves, not by machinery.
You can also enjoy the delightful taste of snow crab in Uljin County, North Gyeongsang Province. After a usual 9 a.m. auction is finished at the Jukbyeon Port in Uljin, a box of snow crab with one of their legs cut off is sold at low prices, at around from 40,000 to 50,000 won. Still, it can be a hearty meal for at least eight persons.
"I think it is too wasteful to go on an overseas trip once a year when you can fill your daily lives with travel," Kang said. "Go on a trip around the country any time. There are so many beautiful and fun places to travel to in Korea."
Choong-Hyun Song balgun@donga.com