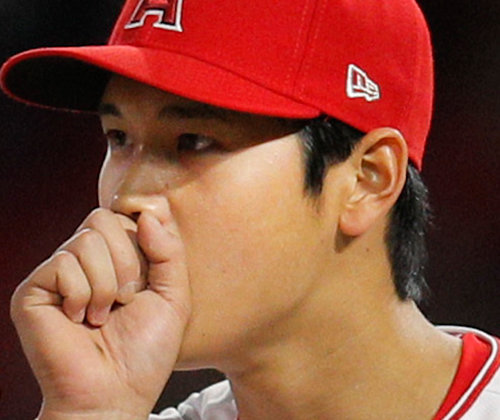 His fastballs were as fast as up to 161 kilometers per hour. But fastballs were not enough to claim a win in the Major League Baseball. Japanese two-way rookie sensation Shohei Ohtani of the Los Angeles Angels recorded his first loss of the season after struggling to have control over his breaking balls.
In a match against the Boston Red Sox held at Angel Stadium in Anaheim on Tuesday, Ohtani was removed from game after two innings and 66 pitches because of a blister.
Ohtani topped 100 mph (161 km/h) on the radar gun at Tuesday's game as well, but he suffered throughout the two innings as he had problem controlling his splitters. He was just a plain pitcher, who throws fastballs, on the day when he failed to have strong breaking balls.
In his two previous games, where he picked up two wins, Ohtani made batters swing and miss with his incredible splitter, which first appears to be a fastball to the batter but suddenly drops as it enters the strike zone. But on Tuesday night, it was easy to tell if his splitters were balls or strikes. He threw 13 splitters but did not draw a single swing and miss.
Ohtani had a bad start from the first inning, when Mookie Betts led off the game with a homer. In the top of the second inning, the 23-year-old starting pitcher allowed two more runs with two hits, two walks, and one sacrifice fly. He was removed from the game after two innings, developing a blister on his finger to make the matters worse. Reliever Luke Bard replaced him from the third inning. Tuesday night's loss put an end to Angels' seven wins in a row. The Boston Red Sox, the lead in the American League East, recorded the highest winning rate in the MLB with 14 wins and two losses.
Heon-Jae Lee uni@donga.com