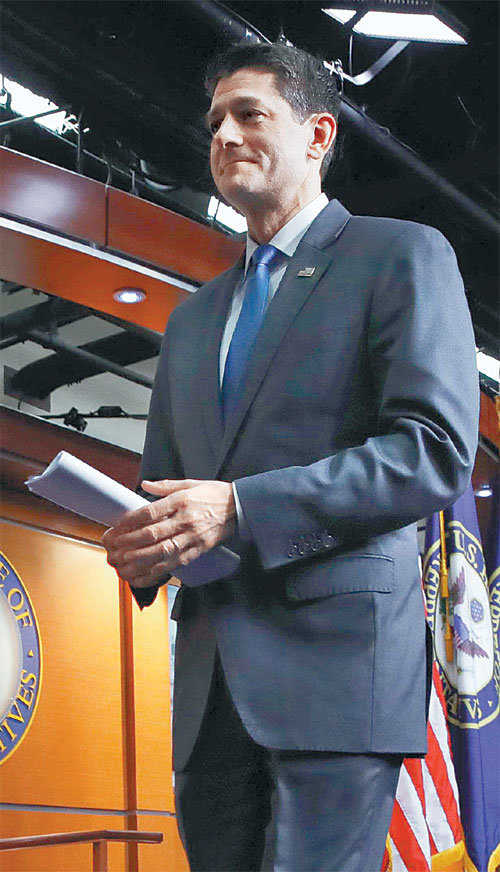 U.S. House Speaker Paul Ryan, the most influential congressman of the Republican Party, has pronounced his retirement in politics all of the sudden, saying he wants to spend more time with his family. He opened a press conference on Wednesday (local time) and announced that he would not run for the off-year election in November, adding he will leave Washington when his term ends in January 2019.
The reason for his decision to put aside all the power at a time when he was raised as a potential candidate for presidency was surprisingly "family."
"My kids weren't even born when I was first elected. Now all three of our kids are teenagers. What I realize is if I am here for one more term, my kids will only have ever known me as a weekend dad. So I will be setting new priorities in my life," Ryan said. "My dad died when I was 16, the age my daughter is, and I just don't want to be those people looking back at my life thinking I wish I'd spent more time with my kids."
Ever since being elected for the first time at the House of Representatives (Wisconsin State) at the age of 28 in 1998, he was a running mate of the Republican Party's presidential candidate Mitt Romney in the 2012 presidential election and the youngest Speaker of the House for the first time in 146 years in 2015. Paul Ryan has been on the fast track to success for two decades.
Local media analyzed that the clash of opinions over immigration and trade policies with President Donald Trump influenced his retirement from Congress.
Gi-Jae Han record@donga.com