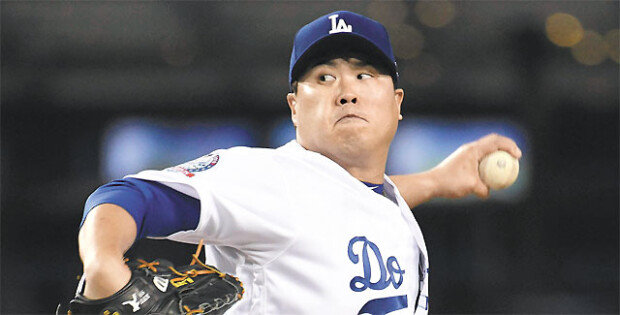 Before he took to the mound Tuesday, things have not been going well for Dodgers' pitcher Ryu Hyun-jin. Monday night's game, where Ryu was supposed to pitch as a starter, was canceled due to rainout. Rain pushed back the Korean pitcher's start to Wednesday night, but he had to move up a day to start Tuesday against Oakland Athletics as his teammate Alex Wood suffered from food poisoning. As a result, Ryu could take an eight-day rest. The situation did not allow him to be in the best condition. In fact, Ryu had difficulties going into this season. He failed to pitch more than five innings in his first game of the season while other pitchers were doing well.
The Dodgers' left-hander had to prove Tuesday that he was qualified to remain in the Dodgers' starting rotation. Furthermore, Japanese two-way sensation Shohei Ohtani had 12 strikeouts during seven innings in his home pitching debut against the Oakland Athletics, adding pressure to Ryu.
The South Korean starter managed to rebound from a rocky season debut. In his home pitching debut this season, Ryu picked up his first win of the season, living up to his nickname "Korean monster." After walking Oakland Athletics third baseman Matt Chapman in the first inning, Ryu threw a no-hitter during five innings. He threw six scoreless innings with eight strikeouts, allowing only a single hit to Stephen Piscotty in the fifth inning. Ryu had command of his pitches in Tuesday's game, throwing every pitch into the strike zone. He only needed 90 pitches until the sixth inning. His strikeout rate moved up from 53 percent in his first game of the season to 66 percent and his ERA dropped from 0.333 to 0.176.
MBC Sports Plus commentator Song Jae-woo said Ryu's cutters were attributable to his season's first win. "Ryu pitched in to A's right-handers from the beginning instead of relying on his strengths fast balls and changeups, confusing the batters," Song said. "He changed his pitching pattern every inning, making batters difficult to expect which ball to aim for. Various pitching patterns made his pitches seem more powerful and faster. He exceled A's batters not in strength but also in strategy."
There were only four times when Ryu gave three balls facing A's 20 batters. He finished three out of four batters with strikeouts, allowing only one walk in the 1st inning.
Ryu seemed confident even at the batter's box. In his first inning, Ryu walked after a full count and in the fourth inning recorded his first hit of the season. He reached base twice in the game, being replaced in his third appearance in the sixth inning. Dodgers beat Athletics 4-0 Tuesday night.
Bo-Mi Im bom@donga.com