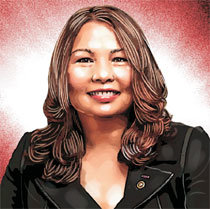 The United States will pull through an off-year election in November, which will elect all 435 seats in the U.S. House of Representatives and 34 of the 100 seats in the Senate. What stands out in the November midterm elections is the advancement women given that a record-breaking 309 women are running for seats in the House of Representatives.
Some elect governors. Two women who filed candidacy papers to run for the State of Wisconsin and Maryland recently released a campaign video that includes images of them breastfeeding. Unlike the past, now is an era where women highlight the fact that they are a mother. Senator Tammy Duckworth, a Democrat of Illinois, gave birth Monday to a baby girl in this new wave of politics. This is the first senator to give birth while in office.
The life of Tammy Duckworth, who was born in Thailand to an American father and Thai mother, is literally a human victory. The former helicopter pilot lost both her legs and used prosthetic legs as the helicopter she was in was shot down at the Iraq War in 2004. Nevertheless, she rose above her misfortune and challenged herself to become the first Asian American woman elected to Congress in Illinois in 2012 and gave birth to her first daughter two years later. In 2016, she became the first female war veteran and disabled woman ever elected to the U.S. Senate.
"Tammy Duckworth has served this state and country as a Lieutenant Colonel, a U.S. Representative and a Senator – but there is no higher rank than parent. Illinois is lucky to have a Senator who fights for our families," Chicago Mayor Rahm Emanuel said in his congratulatory statement. Duckworth, who overcame her difficulties and acquired the honorary position of a "mother" and a "senator," is putting her passion to make a family friendly environment in not just the army but also schools and airports. "Parenthood isn't just a women's issue, it's an economic issue and one that affects all parents — men and women alike," Sen. Tammy Duckworth said emphasizing social solidarity. She is indeed a living evidence, proving that a brave woman and a brave mother can become a true soldier and a true politician.