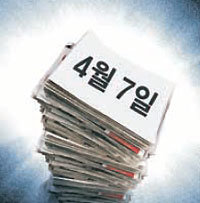 In his book "Editology," cultural psychologist Kim Jeong-un said "editing" is the keyword to understand the world. The former professor at Myongji University always says it is important that you play well. According to him, the ability to edit a variety of information and knowledge from one's own perspective is a core competency required in this era. Displaying products at department stores or arranging attractions at amusement parks is the result of editing, too. The medium that shows such editing every day is newspapers. Printed newspapers change size and layout of articles according to their value and meaning unlike the arrangement of Internet or mobile news.
There is active move to rediscover the value of paper and newspapers in this Internet and mobile era. According to an experiment conducted by Carnegie Mellon University Professor Geoff Kaufman, reading on paper helped people gain comprehensive understanding and think more creatively than reading from screen. New York Times tech columnist Farhad Manjoo turned off his digital news notifications and unplugged from social networks and read print newspapers for 40 minutes every day for two months. As a result, he could be able to get only verified information instead of seeing all unconfirmed breaking news online. Using the free time he had, he read six books and took a pottery class.
Today is Newspaper Day that marks the first publication of Tongnip Sinmun in 1896. The time has changed, but the role of newspapers is still very important. In terms of accuracy and depth, which are the primary values of information, Internet and mobile news fall far behind print newspapers. Most of the core content of Internet news has been covered on the scene and fact-checked by reporters.
Newspapers are infrastructure for community and democracy in that they freely distribute meaningful information and lead public opinion. It was in this context that some argued, at the seminar commemorating the 62nd Newspaper Day held on Wednesday, that "institutional and financial support for newspapersㅡpublic goodsㅡis necessary." Newspapers will continue to perform its function as public goods as long as there is a desire for news and the truth.
Kwang-Pyo Lee kplee@donga.com