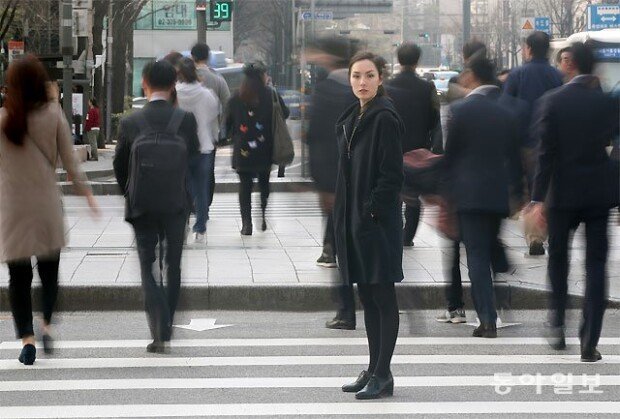 It is a unique experience to read a book written by French author Elisa Shua Dusapin. Her debut book "Winter in Sokcho," released in Korea in 2016, is so Korean from the background to characters that it is difficult to realize the difference one would feel reading a foreign literature. The strange feeling of reading a translated version of a story about Korea written in French can have one vaguely assume the inner side of the author with a Korean descent who started writing due to confusion in her identity. The 26-year-old French author and Korea readers encounter each other in such a peculiar way.
Last Saturday, this reporter met Ms. Dusapin who visited Korea to participate in the La Francophonie Festival, hosted by the French Embassy in Korea. Ms. Dusapin, who received prestigious literary prizes including the Robert Walser Prize and the SGDL Revelation Award with her debut book, had a busy schedule meeting Korean readers across the country.
Ms. Dusapin said that it was truly a special experience to meet Korean readers. Born to a Korean mother, she understood a little Korean but could not speak the language as she grew up in France and Switzerland. She had French readers in mind when she wrote the book. "I was happy to hear that I expressed the culture of Korea without any distance," said Dusapin, who never thought the book would be translated into Korean.
"It is a book that opened the door for me to enter Korea, which I was watching from far away," she said. "I wrote all the conversation in French by 'imagining' it is Korean, which is a language I don't even speak. I tried to speak in French about things I could not express in Korean. I couldn't have written the book if I could speak Korean as a mother-tongue."
Her second book, which she recently finished writing, is also about Korea and Koreans. The book is set on Japan dealing with a Swiss of Korean descent. The grand-parents of the protagonist is a Korean-Japanese who run a pachinko in Japan. The book will first be released in Europe around August and is also expected to be translated into Korean. "I have my roots in Korea but I am a stranger here and Korea is a distant country for me," said Dusapin. "I have a desire to express Korea by mobilizing everything I can."
"So, I try to come to Korea once a year since I was thirteen. I try to absolve everything I can like a sponge," Ms. Dusapin added. "Korea is dynamic. Unlike Europe, which always remains the same, it is difficult to find a place that does not change."
The author also enjoys reading books written by Korean authors such as Yeom Sang-seop, Lee Chung-jun, Lee Seung-woo and Pyeon Hye-young that are translated into French. She said that it was a particularly unique experience to understand Korea in the era of her grandparents through Yeom Sang-seop. "It was impressive to see various themes that would not be used in French speaking countries such as plastic surgery and state-of-the-art technology," Dusapin said with respect to contemporary Korean authors.
Although the starting point of her writing was her agony over identity, shaking roots and collapsing boundaries is also a challenge that the modern society faces. "With more cultural exchanges and collapsing boundaries between regions, more people are living like nomads," the author said. "I want to continue to study on the complexity of cultures that goes beyond the agony of an individual through writing."
teller@donga.com