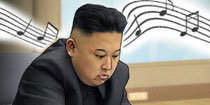 It became a topic that the song "Belated Regret" sung by singer Choi Jin-hee at the performance by the South Korean art troupe in Pyongyang was directly requested by the North. It has been said that North Korean leader Kim Jong Un expressed gratitude to Choi for singing the song. This song was released in 1985 by a brother-and-sister duo "Hyuni and Deoki." The song failed to gain popularity because of the song "You like me. I like you," which was another song in the same album that was a great hit. "I did not know the song and I did not know why I had to sing a song that wasn't mine," said Choi. The song hit No. 1 in 33 years at a real-time chart of music site on Tuesday.
Yun Sang, musical director of the South Korean art troupe, introduced the song as "a popular song in North Korea." When considering the fact that the song failed to gain popularity at the time it was released, it is possible that the song was enjoyed by former North Korean leader Kim Jong Il, rather than Kim Jong Un in his 30s. It was well known that Kim Jong Il had affection towards a Japanese song called "Michizure (Accompany)" and frequently sung Choi Jin-hee's song called "The Maze of Love," but it was not known whether he liked the song "Belated Regret."
"Song symbolizes the victory of revolutions and the country can prosper when there is clear and loud sound of songs," said North Korea's patriarch Kim Il Sung, who is the grandfather of Kim Jong Un. The image of the founding father singing, however, was rarely publicized. The North's Korean Central Television's broadcasting of Kim Il Sung singing the song "Sahyangga" in 2015, was probably the only time he was seen singing. The song is reportedly made by him in China in 1929.
Kim Jong Chul, Kim Jong Un's brother, is a well-known Eric Clapton fan but Kim Jong Un's taste of music has not been exposed. Nevertheless, would it be a jump to say that one could feel the solitude of a dictator who cannot trust anyone from the lyric "my heart gets lonely listening to the rain outside the window, because there is no one next to me?" This writer hopes that Kim Jong Un, who inherited a closed totalitarian state as a result of three generation hereditary succession would not leave any "belated regret."