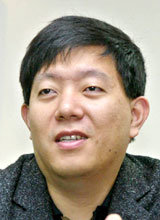 Lee Jae-woong (50), chairman of the board of SoCar as well as founder of Daum Communications, has announced that he will make a comeback to the car-sharing company's top management. Having ushered in an era of web portals in Korea by starting Daum Communications in 1995, Lee now sets his vision at futuristic vehicles.
SoCar officially announced Tuesday that Lee would serve as the company's new CEO, which would be his return to the management in 10 years since he stepped down as the chief executive of Daum in 2008.
Along with the comeback of Lee, the country's No. 1 ride-sharing service operator also announced that it secured an investment worth 60 billion won from IMM Private Equity (IMM PE). "With this new investment, we have laid the foundation for the sustainable growth of the company as the country's largest comprehensive mobility platform," said Lee.
Since leaving Daum in 2008, Lee created social venture accelerator "Sopoong" and invested in SoCar, which was then in its early stage. Now taking the seat of CEO, Lee will focus on speeding up the company's decision-making process and attracting more investment.
The country's top car-sharing startup successfully secured investments worth 18 billion won from Bain Capital in 2014 and 65 billion won from SK and Bain Capital in 2015. SoCar says that with this new investment, it will expand its infrastructure by purchasing vehicles to be shared and preparing parking spaces and also strengthen the quality of its service. Also, the company will invest in research and development (R&D) activities such as Big Data, autonomous vehicles and technology to prevent accidents.
yes@donga.com