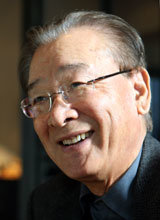 "Main roles and supporting roles are equally important when it comes to acting," said Lee Soon-jae. It has been 62 years since he debuted, during which he appeared in some 200 films and TV shows. Some would want to take it a little easier, but Lee is still ambitious as ever. He decided to take a role in the film "Stand by me" (2017) without getting paid.
"Having worked on films, TV shows and play for more than 60 years, I am now used to being busy," said Lee in an interview with the Dong-A Ilbo at a café in Jongno, Seoul.
The film compels tear of the audience by featuring Lee as an old man who is terminally ill but looks after his orphaned grandchildren. This is the first main role of his in a while. "My first role in college was a 60-year-old man. What's important is to do your best for all roles you take," said Lee. "But it surely was refreshing to take on a main role after a long interval. And I am more determined to do well because it's an important role."
His dedication and hard work occasioned him to bleed at the nose during filming, but he did not let it show. He works all night just like younger actors for TV drama shooting.
"A nosebleed is not a big deal. I shouldn't make other actors and crew members uncomfortable," he added. "I don't expect to get special treatment just because I am older. I think it's common courtesy."
He shared a wisdom he gained during his acting career that actors should shine through any role, which makes significance of a role meaningless. "If acting and scenes are meaningful in a play, however short it may be, then that's all I can desire as an actor," said Lee.
He also said, rather resolutely, that he thinks of every film and TV show as his last work because of his age. "I don't have any regrets in my acting career because I knew it was not going to be easy from the beginning," the 82-year-old actor said. "I've done all genres. I will continue to keep myself busy, because I am at my happiest when I am acting."
Sun-Hee Jang sun10@donga.com