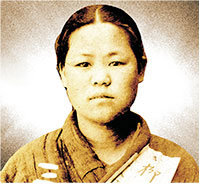 The press puts down celebrities' obituaries in advance. There are times when a journalist writes the obituary so early that he or she dies even before the celebrity does. The New York Times critic Mel Gussow, who wrote Elizabeth Taylor's obituary in advance and died in 2005, was outlived by the actress who died in 2011. It is not the record of death but the judgement on life that makes it possible to write an obituary of a living person.
An unexpected obituary of Korean independence activist Ryu Gwan-sun was published recently in The New York Times 98 years after her death. The newspaper is publishing a special project series of obituaries of 15 women who have left behind indelible traces but have been overlooked, in the reflection of its bias towards white males' obituaries. Three Asian women in the project series are Ryu Gwan-sun, first Chinese female revolutionary Qiu Jin and Bollywood actress Madu Bala.
The New York Times knew of the repercussions created by British author Charlotte Brontë's Jane Eyre, but didn't write the obituary of the author whose novel is indispensable in the English history of literature. To miss an obituary is quite painful for a newspaper company, but it is more painful to miss an obituary due to inability to properly evaluate the importance of the person.
More than 7,000 people died and 46,000 were arrested during the March 1st Movement of Korea. In the midst of countless victims, Ryu's death could be known after liberation as novelist Jeon Yeong-taek discovered it. It is fortunate that her patriotism has been evaluated belately at home and abroad. The great sacrifices made by our ancestors have also allowed The Dong-A Ilbo, which marks the 98th anniversary on March 31, to be born.