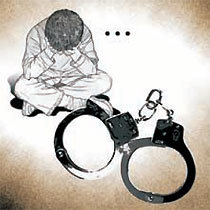 "Justice has been carried out," reported U.S. Major League Baseball (MLB) team Chicago White Sox on Monday (local time) as they welcomed Nevest Coleman back to his old job as their groundskeeper. Coleman was released from prison last November as the real criminal was caught after spending 23 years in prison for being convicted in 1994 for rape and murder of a 20-year-old woman, who was discovered in the basement of the building where he lived.
On Tuesday, the Supreme Court of Korea fixed a sentence of 15 years to the real culprit of the Yakchon Intersection Murder Case on Tuesday. At about 2 a.m. on Aug. 10, 2000, the taxi customer at the back seat ran away after stabbing the driver 12 times with a knife. The police accused the 15-year-old delivery boy Choi, who came across the taxi driver and notified the police.
Prosecutors indicted the case based on the police record, although contrary to the police announcement, no blood was found on the clothes and shoes of the "criminal." Two years and eight months after the incident, real criminal Kim confessed to the police after being caught, but this time the prosecution disregarded the police's request for a reinvestigation. To prevent the "false investigation" from being revealed, Choi was released from prison in 2010 after completing his sentence of 10 years. It was November 2016 when retrial established Choi's innocence. The Korean movie "New Trial" is based on this incident.
The movie "Miracle in Cell No. 7" is also based on a true story. Jeong Won-seop, the owner of a comic book store in Chuncheon, was accused of murder in 1972 for the simple reason that the victim frequently visited his store. Harsh actions and false confessions led to a sentence of life imprisonment, and Jeong had to serve 15 years until he was released on parole as a special envoy in 1987. He was already in his seventies when he was cleared of the false charge by retrial in 2011. What does justice mean to people who have been cleared of false charges after decades? There is a legal maxim saying, "Justice delayed is justice denied."
Su-Jin Cho jin0619@donga.com