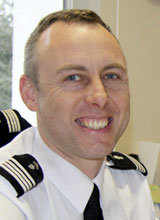 On Saturday night (local time), Priest Jean Baptiste received an urgent call from a hospital in medieval city Carcassonne in southern France. Le Monde, the local publication, wrote, "His feet length robe could not slow his steps. He was afraid of being even slightly late."
The man lying in the hospital was Lt. Col. Arnaud Beltrame (45). The person that had called the priest was Mariel, who was to wed Beltrame in a Catholic ceremony on June 9. Tears flowed down Mariel's face as she watched her lover dying. As Priest Jean Baptiste left the hospital room, "He was the most courageous and smart man, a strong believer," he reminisced. Beltrame died the following morning at 6 a.m.
On Friday, 11 a.m., Beltrame was the first police officer to arrive at a hostage situation in a supermarket in Trèbes, a small city near Carcassonne. Inside Super U, a supermarket in Trèbes, Morocco-born immigrant Radouane Lakdim (25) was holding about 50 customers hostage. An hour before the supermarket, at around 10 a.m., Lakdim stole a car, killing one person and wounding another in Carcassone where he lives. He then shot at passing police officers, injuring some. The place he had fled to was the supermarket.
After Lakdim accepted, Beltrame walked into the supermarket unarmed. A few minutes later, gunshots were heard. Beltrame had left his phone on and secretly left it on the table so that the anti-terrorism special police team could hear the situation within. As soon as they heard gunfire, police went in and killed Lakdim. Beltrame was in serious condition, having been shot twice and stabbed several times. He was taken by helicopter to a nearby hospital.
France, having wished for his recovery all night, is now mourning. The lights on the Eiffel Tower were turned off, and flags were hung at half-mast across the nation. Flowers piled up in front of police buildings nationwide. President Emmanuel Macron stated, "Lt. Col. Arnaud Beltrame died in the service of the nation to which he had already contributed so much. By giving his life to end the murderous escapade of a jihadist terrorist, he died a hero." Macron added Beltrame will be commemorated in a state funeral ceremony.
Jung-Min Dong ditto@donga.com