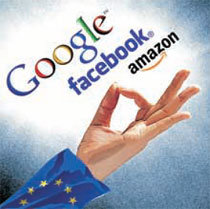 The European Union (EU) has proposed "digital tax" targeting Internet giants. It aims to impose 3 percent levy on revenues of 150 businesses, including Google, Amazon and Facebook, which have a global revenue of over 750 million euros (Approx. 990 billion won) and earn more than 50 million euros in Europe. Some say the new plan is a response to Trump's "global trade war" as half of the businesses likely to be hit by the plan are American IT companies.
There is no border on the Internet. Anyone can do business with anybody in anywhere. That is why it is difficult for individual countries to impose regulations on Internet firms, which have taken advantage of this. They build their headquarters in European countries with lower tax rates such as Ireland and Luxemburg and barely pay taxes to the countries they actually make money. The European Union has tackled on this trick. It has a point in introducing a new tax plan as their existing corporate tax system does not reflect these attributes of Internet companies.
The controversy surrounding digital tax is not irrelevant to Korea. Google earned 1.46 trillion won in smartphone application sales in Korea last year. But Google Korea has never disclosed its performance or the exact number of its employees. This is why there is speculation that Google is evading tax by shifting profits made from its Korean office to its headquarters in Singapore. Fair Trade Commission Chairman Kim Sang-jo said, "(Global Internet giants are) sweeping information without paying a dime here on the network set up by taxpayers' money."
There has been a tremendous change in the global market landscape. Ten years ago, there was only one Internet company among the top 20 companies in the world by market capitalization. Now the number has gone up to nine. Not only in the European Union, but many countries around the world are preparing a strict tax plan targeting Internet giants. Global Internet giants should look back on themselves and think about why they have become the target by many countries around the world. They ought to start exercising economic and social responsibility befitting their size and status.
Su-Young Hong gaea@donga.com