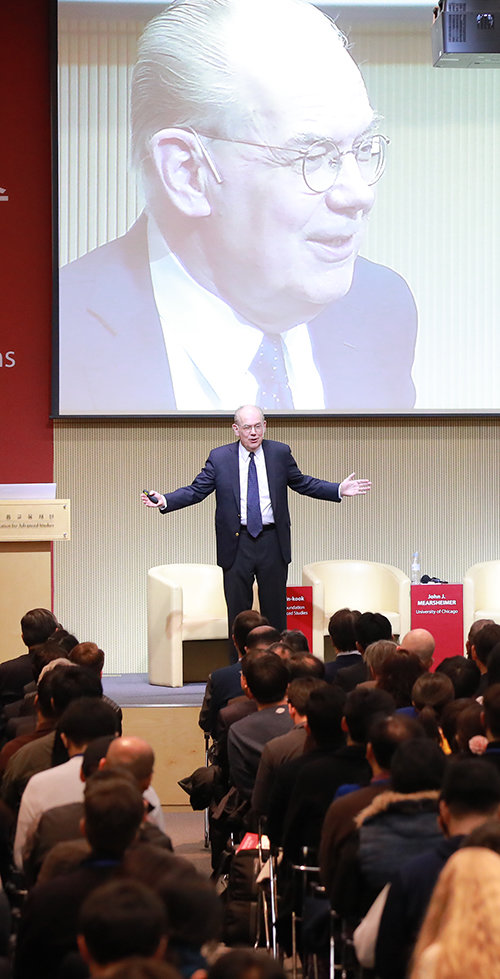 "North Korea would not give up its nuclear weapons. Why would it abandon nuclear weapons when the United States has the most powerful weapons in the world?"
Hopes are high that the North Korea-United States summit would bring peace on the Korean Peninsula. But University of Chicago Professor and political scientist John Mearsheimer, who is famous for his theory "offensive realism," expressed concerns on the future of the talks.
In a special lecture titled "The emergence of China and the future of KOR-US relations" hosted by the Korea Foundation for Advanced Studies Tuesday, Professor Mearsheimer said, "Having nuclear weapons is a reasonable choice for North Korea," adding, "Kim Jong Un would find it hard to trust Trump."
His argument is based on his theory of offensive realism, which holds that countries seek to maximize their power for survival as they cannot clearly know the intentions of others due to the anarchic nature of the international system. "If the talks between North Korea and the United States fail, it could not only worsen the bilateral relations but also make the situation very dangerous," the professor said.
Mearsheimer viewed that China would not pressure North Korea to give up nuclear ambitions. According to him, what China is only concerned about is provocative rhetoric and action by North Korea, which could provoke an attack by the United States or give justification for nuclear armament by Japan.
Mearsheimer argued that superpowers have sought to achieve regional hegemony and prevented the emergence of hegemon in other regions. During the lecture, he warned that the chance of war between emerging China and the United States, which wants to contain the rise of China, is high. "The possibility of war between China and United States is higher than the Cold War between the United States and the Soviet Union," Mearsheimer said. "In particular, security competition between countries could make East Asia a battleground."
Jong-Yeob JO jjj@donga.com